First month in Fiji has been GREAT....Now time to bring on the 2nd month in Paradise!

Sea Mist > Sold to New Owners July 2016
John and Cheryl Ellsworth
Sat 25 Jun 2011 02:51
17 46.4 S  177 11.1 E
Oops....you might think we fell off the edge of the world…..sorry about not feeding our blog since arriving in Fiji in Late May; the bureaucracy encountered by the official entry process was TOO MUCH and I needed to put some distance from that encounter so as not to bore you by relating a load of negatives…...more forms and more hours and more cost to enter Fiji than any of the many countries we have visited in our almost 6 years of cruising 2/3 of the way around the world... …but you can't blame the officials > they are just doing their job. I am thinking back to the experience in the offices on land ….I will leave it to Cheryl to capture the positives from her vantage point that picked up the sequence once the process came to the boat.
Now, for the country, its people, the islands, the white sand beaches...it has been TERRIFIC in so many ways...but most of all the weather...gorgeous blue sky days 99% of the time….by far the most consistently great weather in our 6 years. In a month, we have had 2 occasions of showers that lasted minutes and 2 other occasions of actual rain...really heavy...for part of an afternoon/evening. Otherwise, more than 4 weeks of fantastic blue skies have prevailed....daytime highs around 31 - 33 Celsius (87 – 91 F) and nights dropping down to comfortable mid to high 20's...water temperature has hovered around 30 - 31 Celsius (85 - 87 F). Not bad for hitting this area in the middle of winter...this week we have just passed the shortest day of the year with about 11 hours of sunlight.
So let's share a bit of what we have seen and experiences we have enjoyed.
Do to technical difficulties we realize that all of the Word Art headings I have been using do not show up on our blog, I'm sure you have wondered what the heck you were looking at sometimes…or not
Fiji
I always think I should take photos of the seas when we are out there all by ourselves; we encountered very high seas that were miserable for us landlubbers, remember we have been on land in New Zealand for the last five months with a car! The first couple of days found the crew on Sea Mist somewhat sea sick, I say that as we all had varying degrees of sea sickness, we heard noises from John that both Ian and I never want to hear again. We got tossed around like popcorn in a pot on the stove for a couple of days, had one very tranquil day then back to lumpy seas but the winds were abating, translate the lumpy seas to just miserable. My birthday arrived on May 17th to a sunny day without any wind or seas, it was a great reprieve for all of us...we got to have a shower and eat a hot meal with a salad, walked around the boat read and relaxed for a day, then the next morning back to reality...heavy winds and lumpy seas!
This was our first look at Fiji...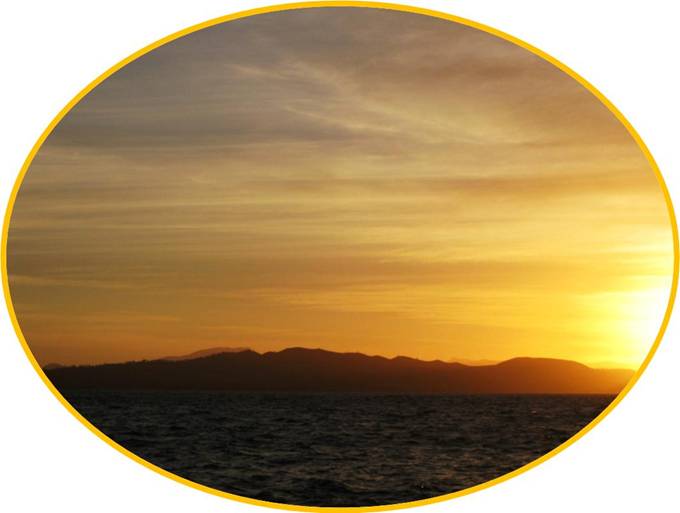 Bula Bula, Fiji, (Bula means Hello)
CHECK IN
We arrived over the weekend – customs and immigration offices are closed but we decided to bring the officers on board over the weekend, we would have to pay them overtime so we shared the costs with Malikalalou, a catamaran that was within hailing distance throughout most of our passage.
This was a relatively painless check-in; they were all very friendly and helpful about where to find the local markets and just general information. The Agricultural Officer went down below to look at our stores and to make sure all of our meat was indeed from New Zealand, I was even allowed to keep my Peace Lily. He was with John at one point and was very interested in the Icing Sugar…looked like he was hinting at us gifting it to him…but we played dumb and didn't offer. I did ask the Agricultural Officer about sharks in Fiji, he told me that the sharks around his island had no teeth, funny guy. We have photos of sharks and they all have teeth, really big teeth. We anchored off Lautoka, not too much to see from the boat, that evening we joined Malikalalou for a Lebanese/Italian meal, Rolando and Sara are from Lebanon with family in Quebec, ties to Italy, nice introduction to Fiji.
Rolando and Sara on board Malikalalou. Try and say that five times.
Sara is a political reporter/writer, not so easy to keep current with events around the world when you are 1000 miles from land; Sara is freelancing and writing articles for various magazines. Rolando is a surfer, diver, photographer, etc, etc, listening to him talk about all of the water sports he enjoys you can see why he is enjoying this sailing life. They both have so much energy for life; we really enjoyed meeting them and hope we will be able to continue this friendship after we leave our sailing life.
The Motley Crew of Sea Mist on Malikalalou.
LAUTOKA
There was a beautiful sun rise, maybe because there was land under the rising sun and the moon was still in the sky, get up, go to sleep???
SUN RISE
THE MOON
THE HISTORY
I always think it is good to learn a little bit about the history of all of the islands we have visited; it gives you a better idea of people and how they have evolved. Museums are a great way to learn about the country and people and Fiji is no different, there are 333 islands of Fiji, many are only now seeing sailors and tourists, whilst many of the islands still do not encourage visitors, they want to live their lives without outside influences.
The Lapita people , named after their distinctive pottery style, were the first people to inhabit Fiji in around 3000BC, then more recently in the 1800's the European and Chinese traders found an abundance of Sandalwood and hardwoods along with the seas surrounding the islands teeming with marine life, this made the Fijian islands a popular stop.
You read historic novels and the characters come to life through the author, but it is always more fun to visit an island that you have read about, such as Captain William Bligh who sailed through the Fijian Islands in 1789 after the infamous mutiny on the Bounty – he like other explorers and sea men - was probably in search of supplies. The British ruled Fiji from 1874 until 1970. They brought in indentured Indian labour to work the sugar cane plantations; this of course has created some problems with the indigenous Fijians, who make up half of the population whilst the Fijian Indians make up the other half. They have passed laws to ensure the lands and some political positions will always stay with the Fijians. Where would we be without minor conflicts, keeps you from getting too lazy and complacent.
THE ISLAND OF VITI LEVU
This island is the larger of the 2 big Fijian islands and hosts the capital, Suva the largest city, Nadi International Airport, Lautoka the 2nd largest city, and Port Denarau, which has a great outdoor shopping centre and several beautiful resorts.
PORT DENARAU
Port Denarau seems to be resort central, there are various resort conglomerates selling villas as well as New Zealanders and Australians who are building private homes along the canals and waterfront. Here is a pictorial view of Port Denarau, starting with the outdoor shopping centre.
Port Denarau Shopping Centre
They have done a really nice job with this shopping centre, lots of stores to keep the tourists happy, a good variety of restaurants and a well stocked grocery store for hungry yachties. This is the centre courtyard.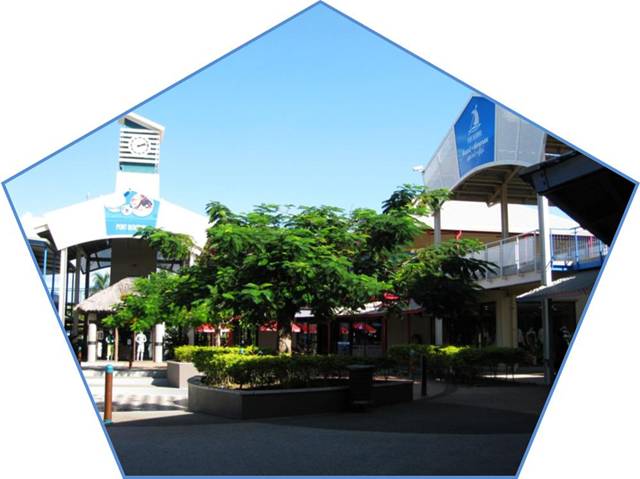 A different view of the centre courtyard.
Jack's of Fiji is the biggest and best stocked tourist shop; they have stores in most of the cities and towns as well as at resorts on the other islands. Jack is doing okay.
Ladies store – enter tourist leave in tropical dress.
They have an Ugg factory in Fiji, if you want a certain colour of boot and the store does not have it in your size or colour, you order your boot in the morning and by 6:00pm you can pick up your new pair of boots fresh from the factory.
One of the many restaurants in the complex.
We have sampled some of the Bread
John celebrated his 66th birthday at the Hard Rock Café; great live music every night.
This is a view of the restaurants at night – I took this shot from our boat, my camera doesn't always do well with the night shots as you can see from this next photo, same shot, but different...I kind of like it.
In the midst of all of this these three young guys were net fishing.
Private Homes
They don't have a beach and the water is dirty, but I guess they have a view.
GOOD NIGHT
Night shot of the same private home with the motor boat.
          ++++++++++++++++++++++++++
So that is our first installment of some views of Fiji; more to be posted in coming days.
As we close this posting, we will note one aspect of our lives that has been a huge change…that is the departure of our son, Ian. After he flew back to Canada in early June, we looked over the records and found that in our 2085 days in this sailing life, Ian had made Sea Mist his home for 970 of those days....that is 47% of the days ….and, of the 35, 500 nautical miles sailed, Ian had been on-board for 21,860 nm.....60% of the distance sailed. No surprise…we are missing him tremendously….and we haven't yet even moved Sea Mist other than a few miles between various anchorages here in Fiji.
He is back in Canada living and working in the Milton area …just west of Toronto….and with a great re-entry scene …. as he is house sitting for the summer for long term friends of ours….making the reentry into "the real world" much easier than it might otherwise have been ……. and he is only a few minutes from his bother, Shawn, which gives Ian the opportunity to reconnect and enjoy quality time with his brother and family…..our grandkids, Elizabeth (8) and Alex (5)…..whom we now have a chance to experience vicariously through Ian's interactions….rather than just through our Skype video calls.
Look for the next posting on Fiji in a few days.
            ++++++++++++++++++++++++++
---