Photos Backlog Part 3 - Fiji Outer Islands >Ono Island >Kava & Meke

Sea Mist > Sold to New Owners July 2016
John and Cheryl Ellsworth
Tue 18 Oct 2011 00:45
Meke, Ono Island
We were invited for Kava and Meke (Song & Dance). The performers were going to Suva the next week for the Meke competition. The ladies of the village had prepared a sweets plated for each one of us and we drank lemon leaf tea.
Kava Bowl, yes it does look like muddy water...tastes like muddy water.
One thing about the Fijians, they are truly very friendly and really enjoy life as you will see from these photos. The Kava ceremony is different from village to village, but goes something like this, Bula, clap hands,Bula, drink from coconut shell, then yell out, Mawtha, which means empty.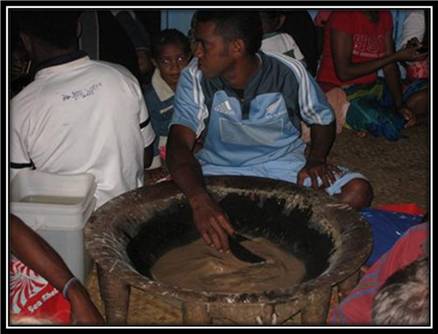 Here are the dancers who are in the competition next week, we got a preview of their performance.
---