Photos - Thailand: Chiang Rai Surrounds > The Karen Hill Tribe

Sea Mist > Sold to New Owners July 2016
John and Cheryl Ellsworth
Sun 15 Dec 2013 13:02
Hill Tribes
We left the Black House (certainly an apt name) to visit one of the Karen Hill Tribes outside of Chiang Rai.
In the 1960's when Burma had a new leadership, they outlawed the wearing of rings/coils as they wanted to bring Burma, or Myanmar out of the traditional ways to become a more modern society. The Karen tribe fled to Northern Thailand where they were able to maintain their traditions.
The Karen women are part of the Padaung, who are the only women to wear the brass coils around their necks and legs. The coils are placed around the neck and, as their ribs carry this weight, the result gives the neck an elongated look. They start the coils on young girls as early as six years old, and then over a two year period a maximum of twenty coils will be added, which is about 10lbs.
We noticed some of the girls had a cloth around their neck to protect their skin, I'm sure they are bruised by the heavy coils.
I thought these photos and explanation would help as to how the coils work. This will explain what happens to their necks and ribs. (You may have to use your screen zoom/magnifier to be able to read the posting.)
We walked along a path that led to a bamboo village. We had to pay to cross a very precarious bamboo bridge to see the Karen women and visit their stalls.
This young lady chose not to wear the coils but a very decorative headdress.
She was all of 4 foot nothing but still weaving scarves and water bottle covers.
A picture is worth a thousand words……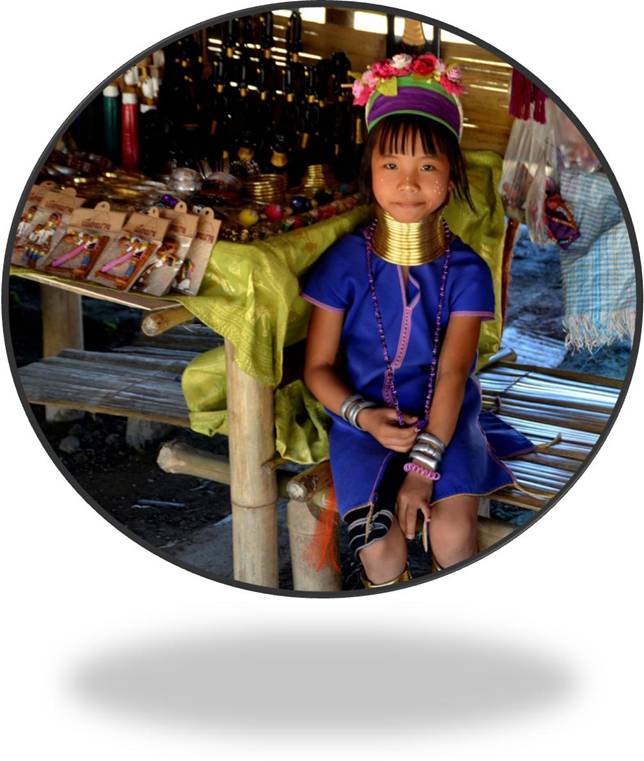 ---