Photos - Vietnam Part 1 - Mekong Delta - last installment > Lunch and Market

Sea Mist > Sold to New Owners July 2016
John and Cheryl Ellsworth
Tue 30 Apr 2013 14:58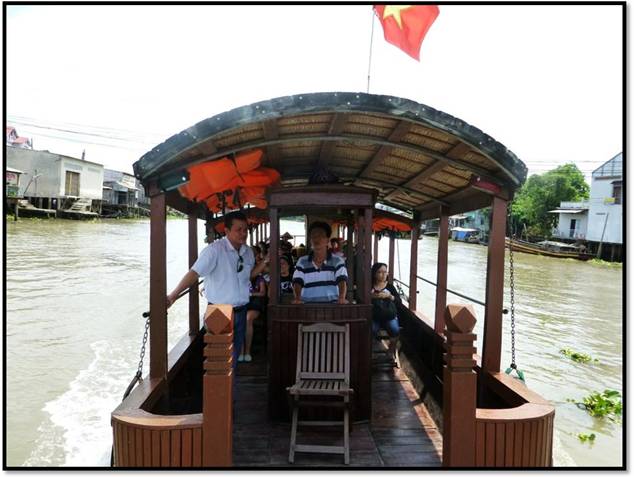 Back to the boat – time for lunch. Perhaps we will have snake.
The water around the restaurant is surrounded by water hyacinths. The boats don't seem to have a problem going through them.
They don't seem to worry about the water hyacinths as the Australians do; they cover a lot of ground in a very short time. Our boat had to go slowly and move them out of the way. We have arrived at our restaurant, the grounds are lovely, and we all were thinking hopefully the food will be as well. They served many lovely dishes, but the most interesting was the fish. They have a dish that can hold the fish upright, so you can take the meat of the fish off both sides at the same time. Really quite ingenious, because if you put the fish on a plate you can only fillet or get the meat off on one side at a time. The photo I took did not turn out.
School is out and boys are having a great time in the water.
Right in the middle of all of these buildings was a little church that looked like it belonged in Bermuda.
This lady was just finishing washing her clothes.
It seemed that in the afternoon it was time to do the laundry. We saw many women doing just that.
No one around as it is the latter part of the day.
Another shot of the buildings along the water. We were going back to the bus and then one last stop an outdoor market.
We still haven't tried Durians...can't get past the smell.
They do a nice presentation for their fruits and vegetables.
Baby Ducks
Baby chickens, they are so cute you just want to buy them all to save them –
They had lots of different kinds of bird's eggs, some we were able to identify, others not so much.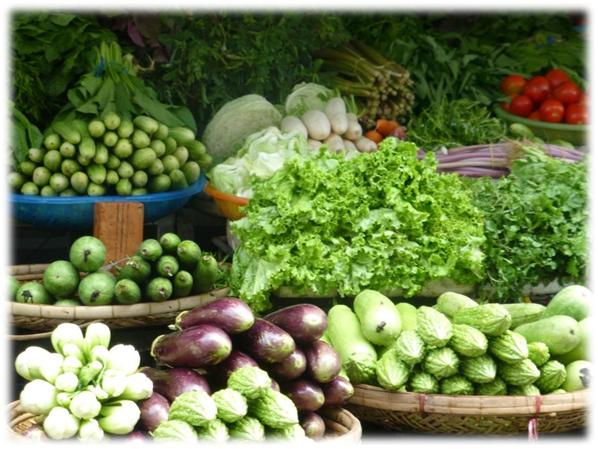 The meat lady was pretty funny; she kept everyone around her laughing.
Our favourite, spiral pineapple on a stick!
Lots of flowers.
We really enjoyed our Mekong Delta tour; there are so many tours to enjoy throughout this area we highly recommend that if you are visiting Vietnam do a tour of this area.
---