Photos: China - Part 4B > Beijing: Emperor's Summer Palace

Sea Mist > Sold to New Owners July 2016
John and Cheryl Ellsworth
Mon 1 Jul 2013 06:31
The Summer Palace
The Summer Palace was created as a royal garden for the royal families. The original name was Garden of Clear Ripples. The summer palace became the main residence for the royal members of the Quin Dynasty during their last days in power. The palace has been rebuilt a number of times and my favourite ruler, Empress Dowager Cixi embezzled funds from the navy to reconstruct the gardens, so she could enjoy the gardens and entertain in style. In 1924 the Summer Palace opened its doors to the public.
We unfortunately had another drizzly day so we didn't get to see what the gardens look like on a sunny day, the dragon boats crossing Kunming Lake were 'Dragons in the mist'.
You get a better idea of the Dragon boat as it got closer, this would be a great ride on a sunny day, you could see the temples and pavilions from the lake, awesome I'm sure.
I would love to come back here in the spring when all of the spring blossoms are out, it must be a spectacular sight.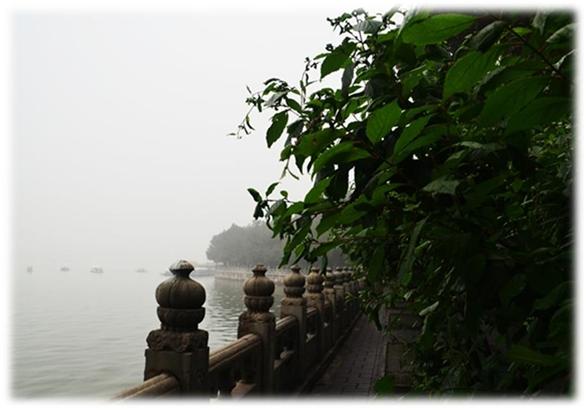 You can walk around the lake along this pathway or the long corridor.
You can see how nice it would be to wander around. You could smell the cedar and fir trees, wonderful!
I wish once again the sun was out as the colours on the pavilion were quite striking.
This is called Suzhuo Street, (Sue Joe)
We didn't bother to pay to enter the street as most of the shops were closed. We know we will be going back to China this fall so we can always visit some of the places we feel we missed due to weather, like the Great Wall of China and the Summer Palace.
Suzhuo is one of the cities we will be visiting, it is made up of gardens and canals.
We were very damp and tired of the mists so entered our silly mode. Tomorrow weather forecasts rain, so we will visit the Museums
---