Photos - Bali Part 2

Sea Mist > Sold to New Owners July 2016
John and Cheryl Ellsworth
Thu 4 Oct 2012 06:12
Bali
We found the play to be interesting, albeit we didn't understand the language but we did enjoy the actors and their costumes.
We were on our way up to Ubud and we would stop at the different villages to enjoy their artisans' crafts, and temples. We finally realized that Ubud is comprised of about 13 villages that wend their way up to the centre of Ubud like different sized beads on a string. We kept on asking our driver if this was Ubud and he would shake his head yes, but we couldn't find anything that looked like it should be Ubud, like the Monkey Forest Road, eventually we clued in and just enjoyed the ride. Our next stop a Silversmith's Shop.
Quite an impressive entrance. They do detailed work on doors and windows, for shops, they sometimes are more impressive than the jewellery inside. We passed a number of outdoor shops that made carved doors, they are really gorgeous, I would love to have one for our new home when we return to Canada.
John looking at the fish looking at John! The fine detail they do in silver is very beautiful but very elaborate and decorative, you buy a piece and when you get home where do you put this very ornamental piece and better yet how do you keep it from tarnishing whilst at sea!
These handsome devils were at the entrance to the wooden sculpture store, once again the entrance is more enticing than the actual shop.
These fellows sit here all day showing us how they carve the various woods and they use their feet as a second pair of hands.
This is Crocodile Wood, once they start sculpting the wood its colour is like American Oak.
We were on a roll; our next stop was an art gallery with thousands of paintings on display. This is the entrance...
John's new little friend and some of the artwork behind them. Temple is next.
The people of Bali take their temples very seriously, they worship the Hindi trinity, Brahma, Shiva and Vishnu and the one most of us can recognize Ganesha (Elephant)
The temples have rooms and shrines within the outer walls, lots of gods and offerings to appease the spirits.
The Guardian
They have gates and a small entrance that take you to another room with shrines, like a secret garden.
This was a very elaborate shrine, one of many.
The old and the new!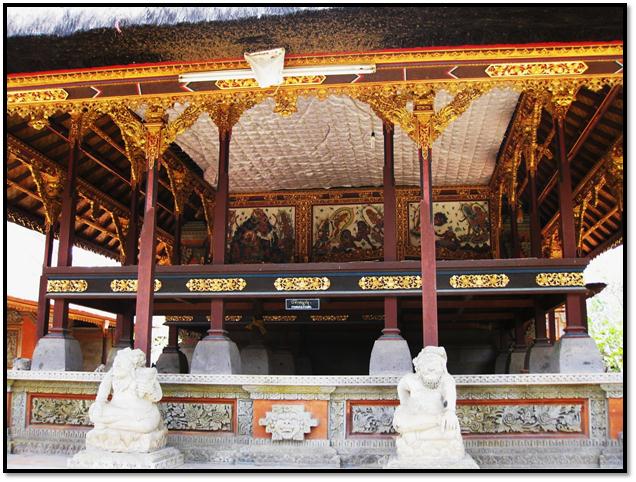 Another shrine to the gods
Some of the gods
Offerings you can buy! Next stop lunch.
---