A few photos celebating our anniversary...the 6th anniversary in a row in exotic SAILING LIFE locations...

Sea Mist > Sold to New Owners July 2016
John and Cheryl Ellsworth
Sun 26 Jun 2011 23:49
Our 41st Anniversary in Fiji > June 6th
We went to the Lomani Island Resort for our anniversary, the ambiance was perfect – staff superb, the view says it all.
The lobby
Dining Patio
Tables by the water…..
Views from both sides of our table by the water….
Sea Mist is in the distance.
The local fisherman bringing their catch of the day to the restaurant, talk about fresh fish!
John thought it would be really romantic to have our table right beside the water and it was...
How Romantic, until….
They came...the mosquitoes and sand flies and we fled to the dining patio…..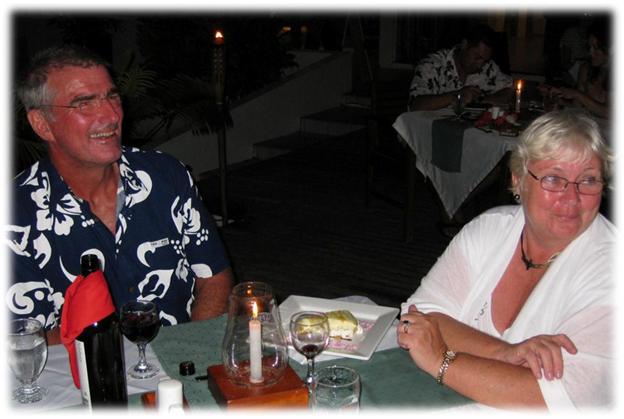 The Anniversary couple
We were serenaded by the staff, the song started off, Happy Anniversary, ---and your blond hair is now white!.... They thought that was really funny….
I know it says 40th, they couldn't understand 41st when John booked our table.
A fitting sunset view to remember our Fijian Anniversary!
---