Photos: Old Phuket Town

Sea Mist > Sold to New Owners July 2016
John and Cheryl Ellsworth
Tue 13 Jan 2015 10:00
Around Old Phuket Town
Where's John (Waldo)?
We rented a car for two days as we had lots to do, but first things first …. we had to get rid of our garbage bags, for those of you who have garbage pickup but complain about recycle boxes…this is how some people recycle.
You almost can't see John over and around the garbage.  This is what we have to look at every time we come to the "dock" to tie up TT Sea Mist!  There was some rustling going on as well, so I like to get off the dingy and make my way up the metal ramp.
Next question does it smell, 'Hell Yes' these bags have been piling up over the last month, the pile doesn't look that high as the bags below are starting to ferment, for some reason yachters and charter boat crew seem to think there is garbage pickup down here, yes, we keep on asking ourselves the same question, after a few days of garbage piling up – maybe there is no pickup.  You have to go up a metal ramp to get to the pier and guess what you can't miss?
These look suspiciously like garbage cans and at least once or twice a day a little pink garbage truck comes along and picks up the garbage!
We watch people come in with their garbage and heave it onto the pile, go up the ramp, then stare at the garbage cans whilst waiting for one of the pink busses to come and pick us up so we don't have to walk the long pier.  Our next stop is much nicer, Old Phuket Town.  
Old Town Phuket
There is a section of Phuket Town that has not been taken over by malls and hotels, it is called Old Phuket Town and is a wonderful place to stroll along the streets and see the old Sino – Portuguese or Sino- European architecture.
Map of Old Phuket Town
We were meeting Rona and John whom we have known for a number of years, they have a villa here in Phuket, so it was great to be able to see them again this year, and we spent time with them last year around this time.  
We had some time to spare before meeting them at the China Inn Café so we walked along Thalang Road and Soi Romance Road.
Phuket was an important trade centre with the European, Indian, Malay and Arab traders.  In exchange for their goods, the Thai people traded their local goods, tin and rubber.  Tin mining in Phuket has been around for a very long time.  It was in the16th century when the Europeans became interested in their tin mines, but not until the 20th century were they invited in.    The Hokkien Chinese were brought in as immigrant workers in the tin mines, over the years they found new opportunities whilst working in the tin mines and with their distinctive culture built the shop-houses that you see all around Old Phuket Town.  The shops and mansions were run down, over the years the old buildings have been given a face-lift without losing the integrity of their unique architecture.
Thalang Road
Here you see the high roof covered curved archways that join one shop- house to the next.  They are called the 'five-foot way'. They offered protection from the very heavy perennial rains in the south-west monsoon season.
The biggest difference – the ugly cables have been buried underground so you don't see this mess across the buildings.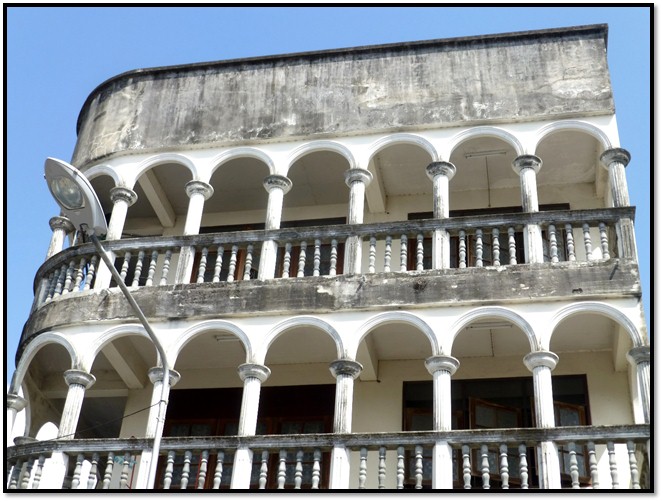 This building is in the process of being redone, new paint and it will look fab.
Two grand old ladies, one wanted to be a little bit higher than the other, we need to take time to find out the history of all of these buildings.
The upper floors can be really decorative, they look like a wedding cake, and can you imagine the hours of labour when they had to hand carve all of these little touches.
Soi Romance Road
What is in a name? The name Romance does not reflect the activities that took place on this street, it was known as the 'lane of pleasure' for the tin miners who came to town to spend their hard earned money.  Now it is a very quiet street lined with romantic looking buildings that don't give you a clue of what went on behind their closed shutters, you have to wonder about the owners and stories for these buildings.
This was an art/souvenir shop, they are very dark inside, the young girl who was in the store turned the lights on so I could see what they had to sell.
Many of these shop-houses were owned by wealthy tin miners.  The building on the right needs a little TLC.  These look to be cats - cats seem to be very popular – we had coffee in a small café that had photos all over their walls of cats.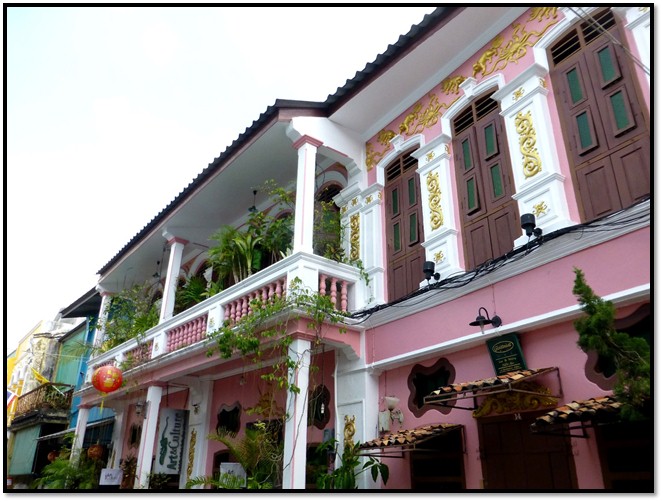 The colours they use on the buildings remind me of the homes in the Caribbean or Bermuda.
Even on these quiet streets then need bars to keep out unwanted visitors.
Here is the history of the restaurant we ate in, just like the history of this place, each building has its own story to tell.
The water well
John relaxing!  The food was excellent, the company great and the courtyard very pleasant through the use of large electric fans.  We have more streets to explore over the next month.
After lunch, we were back to our regular activity of going to hardware stores and chandleries.
Sa Wad Dee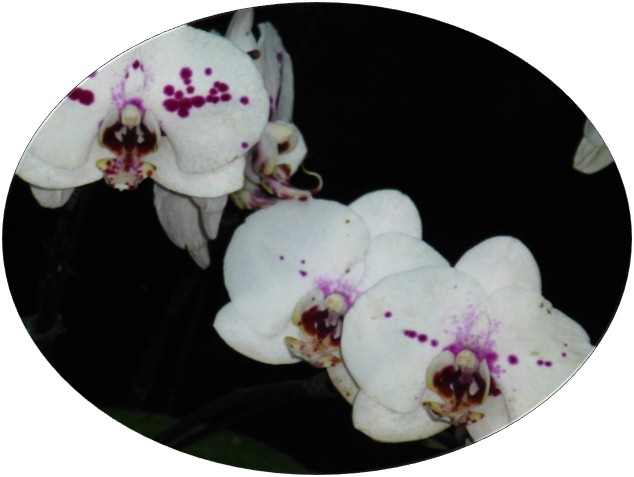 ---