Photos: China Part 17 ...Shanghai >as we depart China, one last Museum

Sea Mist > Sold to New Owners July 2016
John and Cheryl Ellsworth
Fri 5 Jul 2013 10:11
Shanghai Museum
We have visited a number of museums in China and each one brings it own unique collections.
We had a very pleasant huge surprise as we first entered the lobby….proving once again what a small world it is!!
Who comes over and taps us on the shoulder?.....Oz cruising friends of ours who saw us as they were coming down the escalator to leave…..Kelvin and Ruth from S/V Island Sonata. What are the chances of meeting up with friends in the middle of Shanghai, pretty slim; anyway it was great to see them briefly! They are on a fabulous tour…starting now in China for a couple of weeks on sort of o reverse path to the one we had taken…then going on a long train trip from Mongolia in northern China to St. Petersburg on the Baltic in Russia…. then they are taking a cruise into Northern Europe on canals….on to England and Scotland for a few weeks…..then down to Southern Europe for a bit of R&R… and finally back to Malaysia to their boat in late November. We can't wait to hear their stories about this remarkable expedition.
The Shanghai Museum was a little different from the other museums; it has about one million pieces of ancient Chinese art, including calligraphy works by very famous artists. We started at the top and worked our way down. This was a perfect day to visit the museum as it was raining and we were flying out later that day so we didn't have a lot of time to do more exploring.
We started off at the Chinese Minority Nationalities' Exhibition Hall
They always seem to have bright colours, what fruit or vegetable did they use to get these great colours.
This is a nice outfit, very similar to our Canadian Nunavut clothes.
Masks are always interesting as you know they were sculpted from someone's face.
Well, maybe not all of the time!
John getting ready to climb into his ancient canoe and go for a paddle...
A book holder, I thought at first it was a dish dryer, guess we know where that idea came from.
I have no comments...
This was really quite something to see in person.
The Three Faces of Eve!
I think I am getting a bit loopy from doing all of the pictorial blogs.
This is called a Heart Shaped Mask.
We have seen these two figures a lot.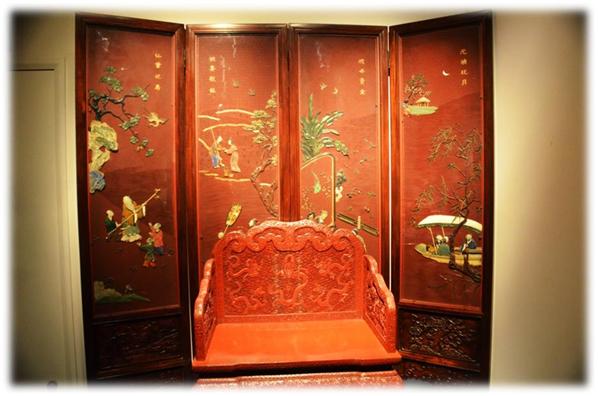 Red Lacquer chair and screen
They had some nice chops, very intricate.
Tea time.
I love this porcelain bowl, hand painted!
1736-1795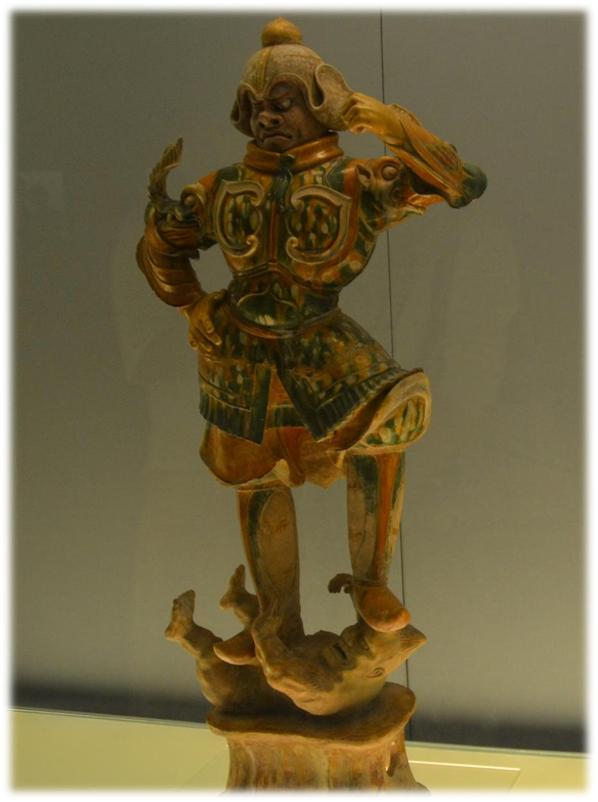 Now this is how you take care of your enemy.
Throughout the museums we have seen some pretty impressive sculptures of camels, you normally don't think of camels and China, but if you start to think, Silk Road, duh!
You have to love this face, a face of many seasons! This painting is from the Yu Garden's but I forgot to put it in, and felt everyone should enjoy this lady.
Time to say Goodbye to China and get on the fast train to the Airport.
Now, that we have had a couple of weeks back at home base, we are off to Canada for a couple of months. Coundown to departure….5 days>>>SOON!! >>>grandkids/family/friends…summertime!!
---