Photos: Bali - Part 2 : Experiencing Ubud on Day 1

Sea Mist > Sold to New Owners July 2016
John and Cheryl Ellsworth
Fri 5 Jun 2015 09:00
The Market
We decided to check out the local market right across the street from the Palace. It is not overly large but there are so many stores selling the same things you wonder how they can make a living.
This was our fabric lady, she had really nice fabrics that I can use once we get back to Canada.
These tightly woven baskets are great, I got some the last time we were in Bali and I use all of them for various things. This is the walk away method of bartering, they try to get you to say what you want to pay, go very low, they smack their foreheads, no, no, walk away, they say okay.
They had some beautiful boards for cheese, but they were usually displayed with these…we never figured out why???
The sad thing is most people were just looking, we visited one place and she said good luck if we bought the bag as it was her first sale of the day and this was after 1pm.
I mentioned to John how much fun it would be to carve these guys once we get back to land…still waiting for an answer from him.
Every nook and cranny if filled with goodies for sale. That was hard work wheeling and dealing in the market, time to go and get some lunch.
The Lotus Cafe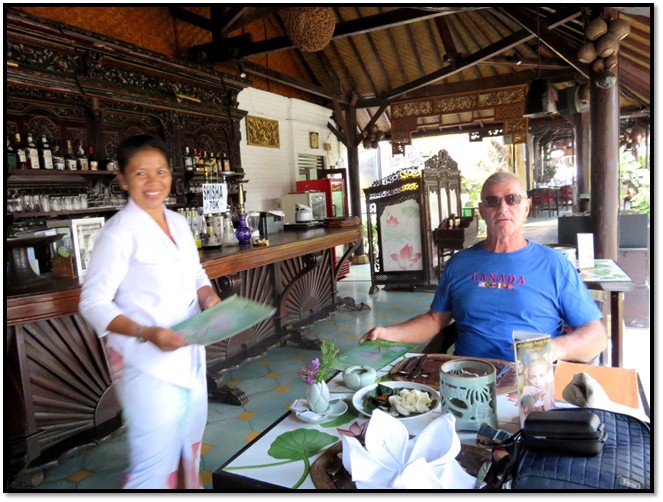 Back to our old favourite where they make the best Hawaiian Pizzas, the last time we were here the stream was choked with lotus flowers, this year, just koi, later on the lotus will start growing and blooming.
There was one lonely lotus flower just starting to bloom, still beautiful by its self.
We spent a few hours in our very cool pool then headed up to our room to enjoy the sunset on our balcony with some wine, cheese and fruit.
This was a great way to end our first day in Bali, sunset, wine and cheese.
Good night from Bali.
---