Photos - the Tuamotus

Sea Mist > Sold to New Owners July 2016
John and Cheryl Ellsworth
Tue 29 Jun 2010 00:47
<![if !vml]>
<![endif]>
<![if !vml]>
<![endif]>
These atolls have been known as the dangerous archipelago, but with new navigation tools, radar etc, these atolls are enjoying visits from yachties. We were not sure just what to expect, but as we travelled thoughout the Tuamotus we were so pleased that we did not just sail by these wonderful atolls – they truly are a not to be missed sailing destination.
The first atoll we visited was Kauehi or Vincennes Island. We had our timing right to get through the pass – but when we arrived we were greeted with standing waves, heavy winds and a 4kt current. There was another boat ahead of us going through and we followed only he seemed to stall so we radioed him and told them we were going to have to pass them, which we did without any problems, they just needed to increase their rpms, but it did take them a long time to get through. This was our first introduction to an atoll and negotiated the pass without mishap and arrived at the village of Tearavera.
The roads are concrete easy to clean and drive on. We walked down a road and low and behold we were on the other side of the
atoll.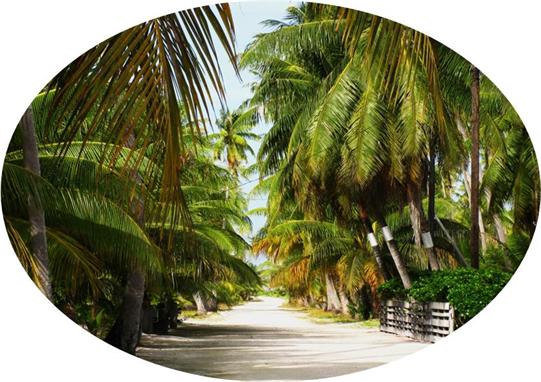 We seemed to be in the middle of a palm coconut plantation , there wasn't much else on this atoll.
This probably was an old coconut plantation. The cheap labour in Indonesia has slowed down the copra production in French Polynesia.
This school takes care of all of the children on the atoll, we were surprised at the size of the school for such a small village.
The Cemetary and finally we noticed these little guys poking their heads out of their holes as we walked along the streets, they were usually hidden in the grass.
We met a young boy on his bike and for fun he would try to run over the crabs, he laughed at my shocked face – I saved one little fellow. They have such funny faces.
Our next stop is Fakarava.
---