Photos - Vietnam > Dalat Part 3

Sea Mist > Sold to New Owners July 2016
John and Cheryl Ellsworth
Tue 30 Apr 2013 18:17
Dalat
We started off early in the morning to drive into the mountains and to see some waterfalls, a temple, the summer palace, the old train station and the crazy house to name a few. Our first stop was the cable car that would take us to the top of the mountain to visit the Truc Lam Pagoda.
This looks very European rather than Vietnamese. I keep on mentioning how Dalat is not like any other Vietnamese or Cambodian towns we have seen. It is also the Honeymoon capital of Vietnam and after visiting here I can understand why.
View from our cable car.
View from our cable car.
Look no rice!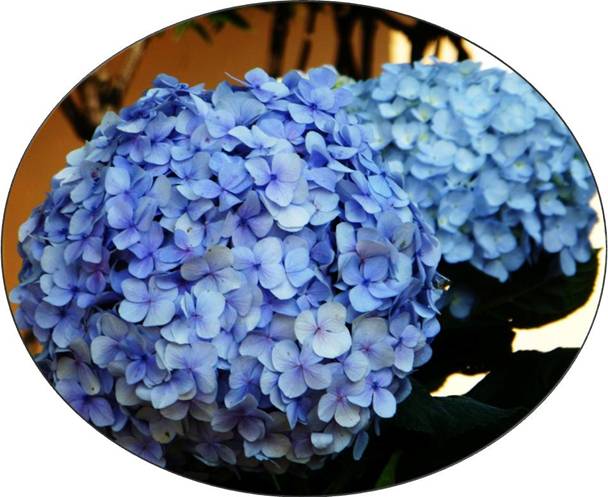 We got off the cable car and walked up stairs that led to the Truc Lam Pagoda, only recently built it is very new to the scene but because of its beautiful setting and well maintained grounds it has become a popular tourist stop as well as we saw locals coming up with their lunches to enjoy a family picnic. We were greeted with Hydrangeas growing on both sides of the pathway. I remember working very hard to keep my Blue Hydrangeas in Campbellville blue, I asked our guide if this was a problem and he laughed and pointed to all of the evergreen trees surrounding us, duh. It was nice to see flowers that grow back home.
A view from one of the terraces surrounding the Temple, this is Tuyen Lam Lake.
Tiger Claw Flowers only grow in this area of Dalat, so I was told, it definitely does not grow back home in Canada.
It looks like a butterfly
And now a heart shape.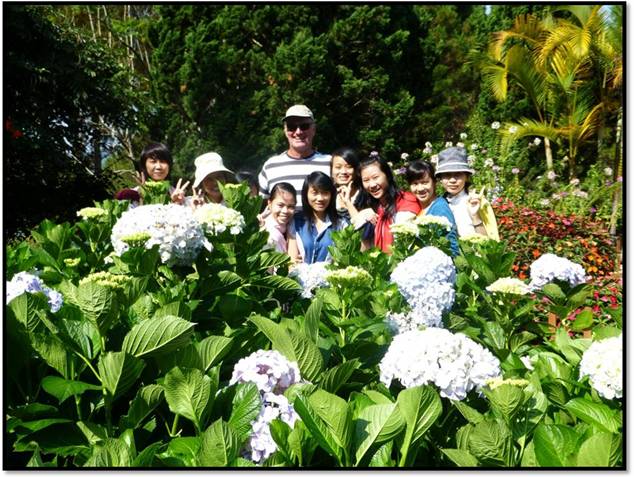 These young Asian girls wanted John to get in a picture with them...oh I won't say it!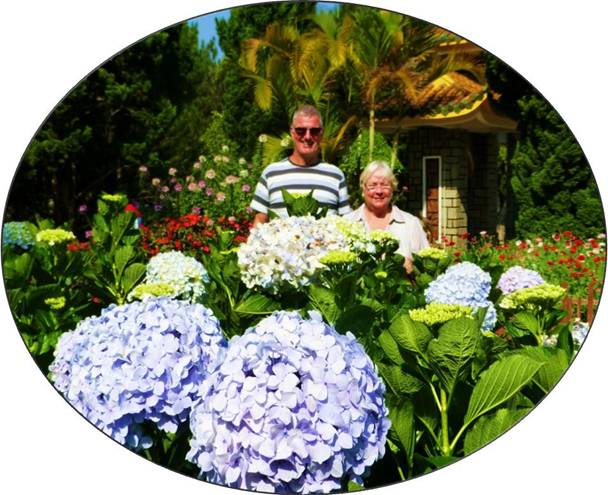 Poppies, one of my favourite flowers.
Fuchsia.
The temple where a monk stands and rings a gong all day.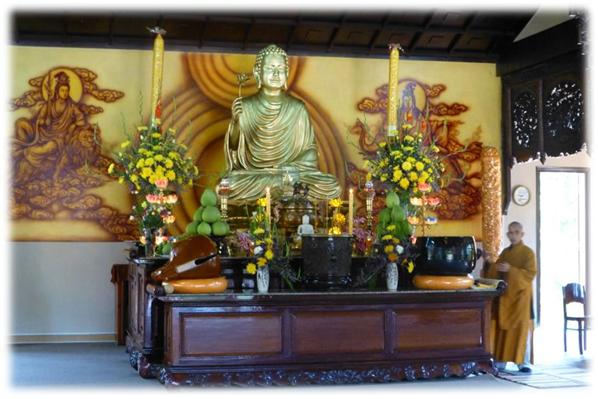 The monk would ring the gong after a donation or to say a prayer.
A close-up of him ringing the gong.
Another view of the lake from the terrace.
The Green Budda is supposed to be made out of a solid piece of emerald, so our guide told us...Jade would be my guess.
There are 150 nuns and 175 monks living here. They can live here their whole lives; the monks (or their ashes) are buried around the grounds, not so sure about the nuns though.
This is the working; sleeping, eating areas of the temple for the use of the monks or the nuns, not sure whose quarters they were.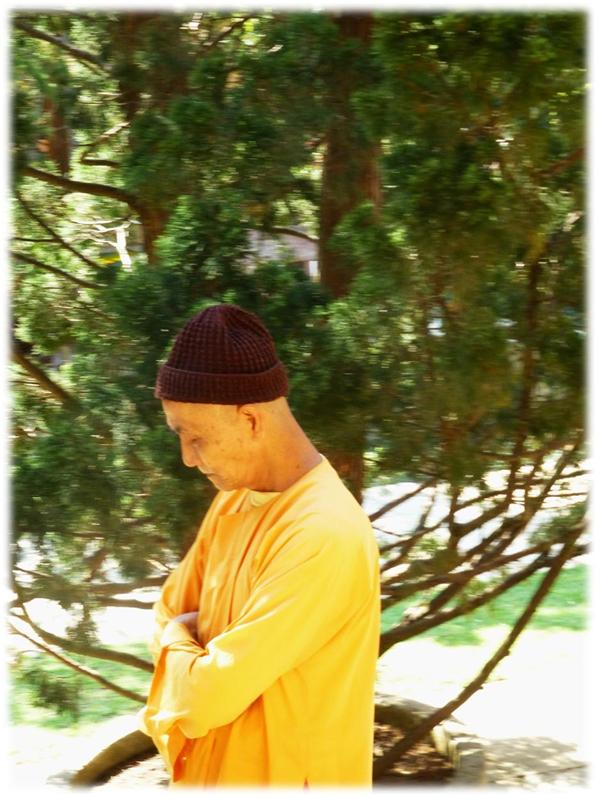 This monk was walking around the grounds, looking down, he never looked up – he was very serious as he did his contemplations.
African Lilies, after visiting these quiet and beautiful surroundings we are now off to visit some waterfalls, the crazy house, summer palace, silk embroidery and train station.
---