Photos > Kumai...our entry port in Borneo ......we came here to access the orangutan national park trip

Sea Mist > Sold to New Owners July 2016
John and Cheryl Ellsworth
Wed 10 Oct 2012 00:06
Kumai
We were on our way to Kumai when we passed this very large barge holding Eucalyptus trees bound for Jakarta, Thailand, Malaysia.
You look at how this is loaded and wonder what would happen if they got into bad weather.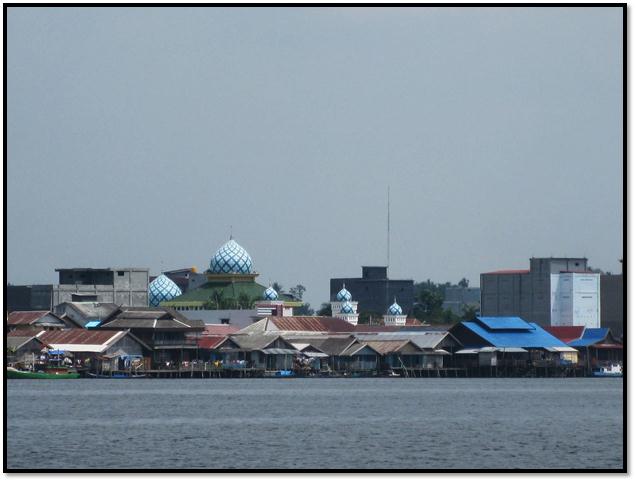 We are back in Muslim country, quite a change from Bali, no pork.
This is a not the prettiest of waterfronts.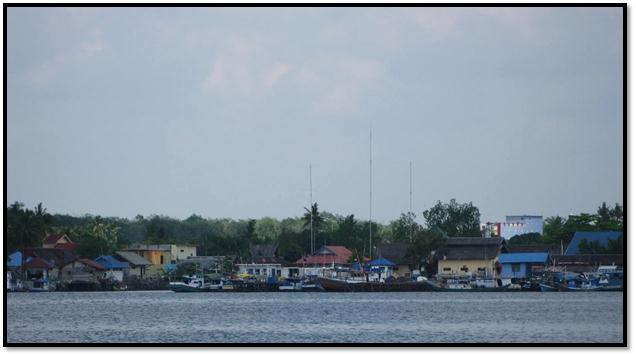 <![if !vml]>
<![endif]>
Justine on S/V Miss Behaving told us about an enterprising gentleman in Kumai who owns six or seven buildings that are not real buildings, just empty shells; the white building with a painting of a peaked roof and windows is just one of those building. They have a recording that plays the bird calls of the Swiftlet, this is to entice the birds to come and build their nests, hence the empty building. When we arrived I thought how nice it was to hear so many birds tweeting in the town, I wondered why they were not in the woods beside us, we got busy and I didn't think any more about it, until we heard the story. The Swiftlets build their nest with salivary cement and this is what gives the Birds' Nest Soup its gelatinous texture. He was selling the saliva or bird spit to The Chinese for $1300-$1500 per kilo, for example in Hong Kong you could pay up to $100 for one bowl of soup. He was doing well until another group sold the saliva to his distributor in China; the big boss took the most prime saliva, very white or very red are the prime bird spit. They used a chemical to whiten the saliva and killed him, so the price dove down to $300-$400 per Kilo. Lost their distributor and business.
The End
We noticed a number of boats going towards the entrance to the park. There were families and motor bikes in the boats. We asked Jenie where they were going; there is an Alluvial Gold Mine and Palm Oil Plantation north of the Orangutan Park. They work there for a month at a time so their families go with them.
Off to work
---