Photos - Vietnam > Hoi An

Sea Mist > Sold to New Owners July 2016
John and Cheryl Ellsworth
Tue 30 Apr 2013 21:01
<![if !vml]>

<![endif]>
From Hue to Hoi An, with a stop in Da Nang, we took the sleeper bus again… always a challenge for tall people.  You have to lie on a bed of sorts, they are like a chaise lounge so you can adjust the back to come up, for John his feet were too long and they didn't fit down into the well for your feet!  This is not the way to travel long distances, very narrow aisles and the toilet I never went near. John had to suffer for about 3 and ½  hours on this trip…..one of the downsides of being taller than the normal Southeast Asians.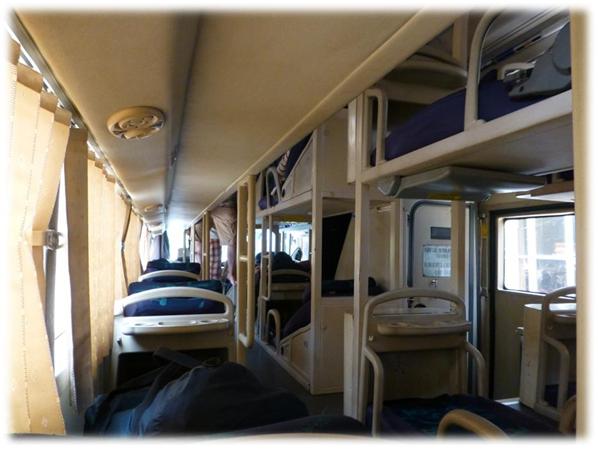 The front of our hotel.
Hoi An from our hotel window
The women truly work very hard no matter what age they are.
We passed this ceremony along the street.
We called this the sleeping Buddha.
I like to take street scenes, it will help to remind us of the towns we visited in Vietnam.
We met up with Martin, his fiancé, Lindsay and her parents.  Martin is our nephew, and he and Lindsay are currently teaching in Macau.  It was great to finally meet Lindsay and her parents, we very rarely get to see family where we are.
Hoi An has old and new, they are preserving the old buildings by charging an entrance fee into certain buildings.
Quirky sign
Some more colonial style buildings.
The market, the ladies all call to you to try their wares.
The men taking care of business.
We were very hot, really hot and yet they wore jackets, pants, gloves, because the temperature was only 31!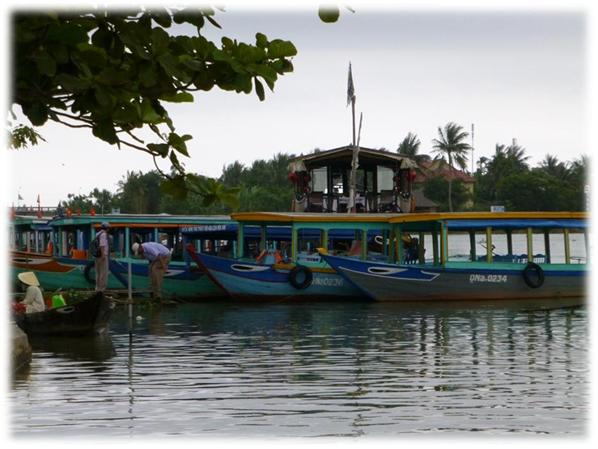 Lots of boats to take tourists for a ride along the river, we didn't try this as, oh yes, we live on a boat!
Now I would have liked to get a couple of these guys but they were to spiky to put in our suitcase.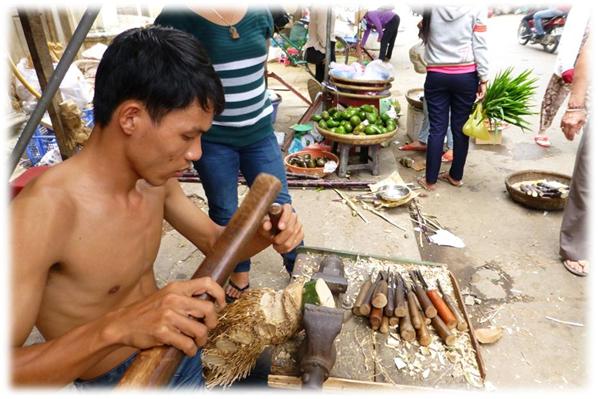 They are made from Bamboo
We came upon these workers repairing the roofs; they kept from falling off the roof using the tiles that hold the outer tiles as steps.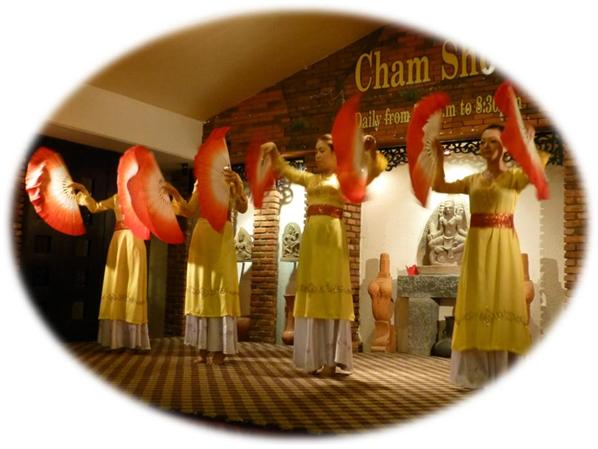 This dance looks Balinese, we enjoyed the dancers, and each dance meant something different.  These girls were really young, the next generation of dancers.
---