Photos - Thailand: Chiang Rai

Sea Mist > Sold to New Owners July 2016
John and Cheryl Ellsworth
Sun 15 Dec 2013 02:14
Chiang Rai
We are off to northern Thailand, Chiang Rai is our first stop, and our driver told us we must see the White Temple
The Temple is contemporary in design and to date is not completed, it is expected to take another 90 years. The artist has used mosaic mirror on parts of the structure to make it glitter like snow, when the sun is shining.
If you look closely at the Koi you can see some very rare albino Koi in amongst the coloured ones.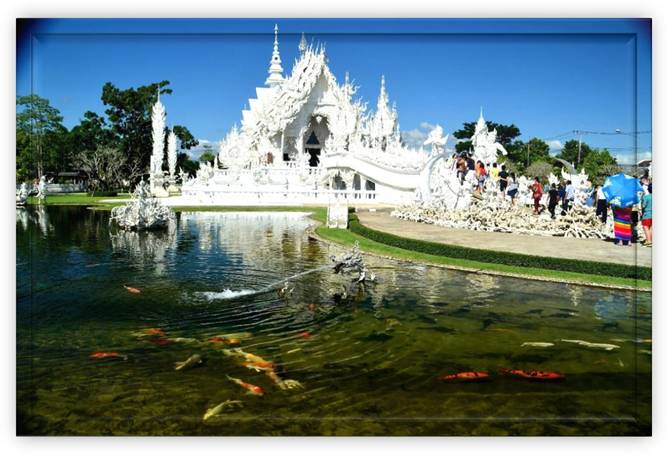 Another shot of the albino koi. What we saw as we were walking up the bridge towards the temple doors was a wee bit of a surprise…
Hands reaching up to the sky are supposed to signify the trials, tribulations and temptations which can distract you from the true path to Heaven.
And someone had a good sense of humour…..fingernail polish on a middle finger…..
The grounds have a lot of architectural buildings on them with small streams running through them. It was nice just to wander around the manicured lawns.
Buddha sculpture gilded with hundreds of mosaic mirrors, it seemed to shimmer in the sunlight.
A little bit of gold added to the mix, no wonder it is going to take 90 years to finish, so much detail on these buildings, even the fences are heavily detailed.
Side view of the White Temple, it does look like a fancy iced cake.
Back to the macabre! Hanging heads, I guess these guys did not make it to paradise.
At least they had some heads without spokes and missing eyes, I have no idea what they are supposed to represent, fools come rushing in?
Even the traffic cones had skulls on them…we are not sure what we will see at the Black House, can't wait!
.
The Black House looked so attractive, the carving on the front of the doors was so intricate it must have taken days and weeks to complete.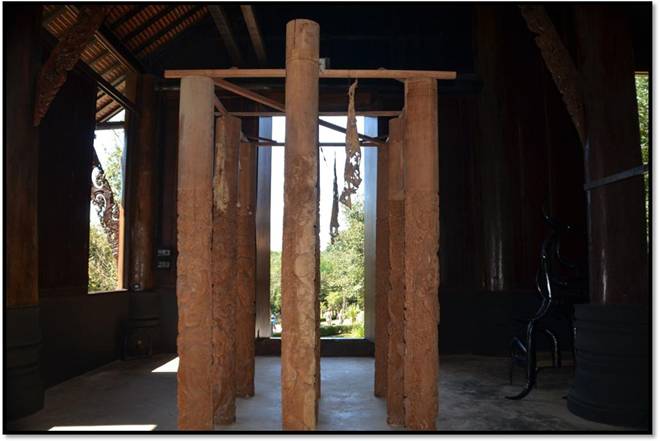 These posts were very interesting until you realize there are animal skins hanging down.
This arch and the art work inside were awesome.
Animal horn chairs, just what every dining room needs, along with the hanging skins.
Very long tables with log seats and lots of animal skulls and skins, and more chairs made out of animal horns.
Python table runners, who needs silk runners?
The Black House or Baan Dam that we visited is one of 40 which houses collections of dead animals and bones, this one is the safe tourist house, I guess many of these Black Houses house things that are tough to look at, stuff animals, complete skeletons, etc. These Black Houses are the creation of a Thai artist, who I think dabbles in taxidermy. Thwan Duchanee has gained recognition from his strange and macbre style, he is now considered a Thai National Artist!
---