Photos - Cambodia Part A - Siem Reap 2 - Artisan Workshop

Sea Mist > Sold to New Owners July 2016
John and Cheryl Ellsworth
Tue 30 Apr 2013 09:04
Our next stop was was an artisan complex where students who are deaf and/or mute create beautiful wooden sculptures, silk painting, silver making, tile painting to name a few. They are handpicked from their schools if they show promise as budding artists. They are trained by their teacher and produce their work to be sold in the shop adjoining the workshop. They get a salary for their work, this is so much better than their counterparts who are not working in the art workshops. The kids who cannot hear are all alone, even within their family, they are not taught sign language and cannot go to school to learn how to write, so they are very much alone throughout their lives, unless they get an opportunity to work in the silk farms, or studios where they make art products to be sold to the locals as well as the tourists, and get paid as well as being around people with the same problems as they have.
The teachers prepare the artwork to be copied and each medium has their own teacher.
Acrylic on silk
Painting on tiles to make up a picture, to be copied by the students.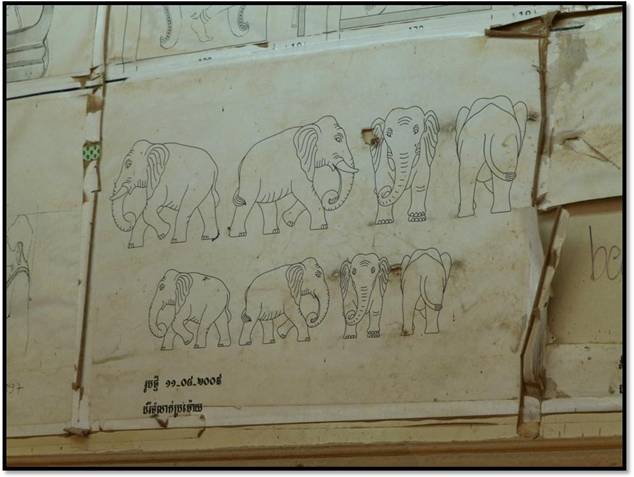 Drawings prepared by the teacher to be copied by the students.
Wood sculpture, they use teak and other local woods.
These fellows are the silversmiths, they both can hear but can't talk, throughout the studios the only sound you would hear would be the paint brushes or carving the wood. I just remember hearing birds singing but it didn't register until we were halfway through, I should not have been able to hear the bird's songs if everyone had been talking and laughing.
This fellow sits there for I don't know how long stirring the slurry for the silver.
Creating a design in the silver. It does become silver once they take the finish off.
The larger sculptures have been done by the teachers.
Time for lunch – John liking two fish on the plate!
Next, we are going by Tuk Tuk to tour of a silk farm.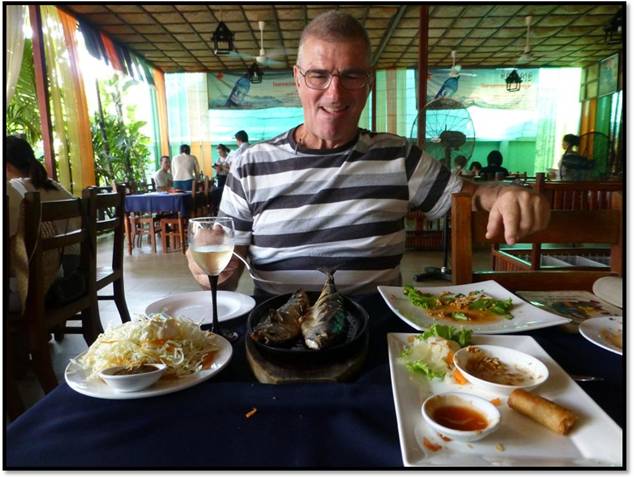 ---