Photos: Laos - Luang Prabang Part 2

Sea Mist > Sold to New Owners July 2016
John and Cheryl Ellsworth
Tue 17 Dec 2013 06:26
This was the entrance to the Palace, this tree stopped everyone in their tracks it was awesome.
This building was under construction it is at the entrance of the palace grounds, it was actually better looking than the palace itself.
The roof is so decorative, can you imagine this style roof and snow…
The Palace was built in 1904 for King Sisavangvong, the royal family lived there until the 1975 revolution, they had to flee to the caves in northern Laos and the Palace became a museum.
Another temple across from the palace.
We just enjoyed the temples and paid no heed to their names, so red roof temple it is.
This is the night market, although there were stalls set up for food and some souvenirs during the day.
We were walking along the street in search of a restaurant. We saw this very tiny, elderly lady pushing this cart…a one person recycling operation as she collects all the cans and plastic bottles etc out of all the garbage cans.
Here we are at our table and along comes the little old lady only now you can't even see her, but she was still pushing the cart.
Lots of young monks in LP, they were always walking to somewhere or coming from somewhere.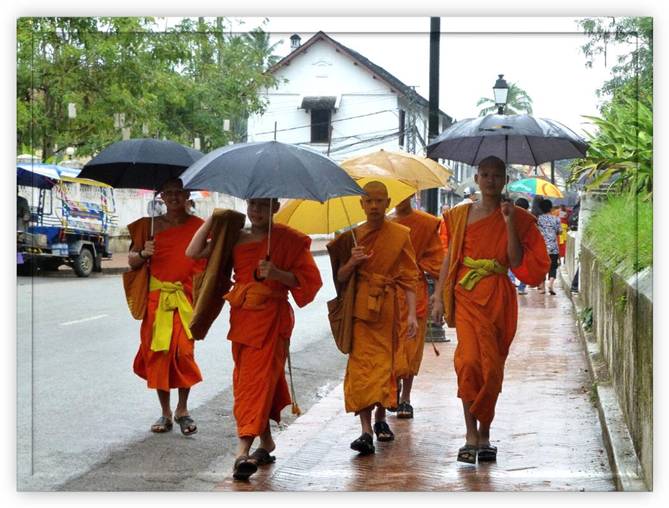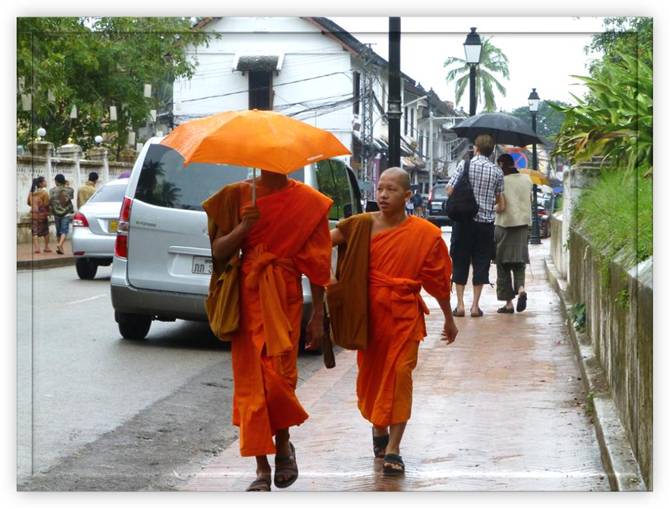 I took a few night shots of our street and The Tamarind Restaurant where we ate one evening, it is owned by an Aussie-Laos couple and they also offered cooking classes. I did buy some sticky rice from them and the containers to serve the rice, so I will have to try my hand at sticky rice….a primary Laotian staple.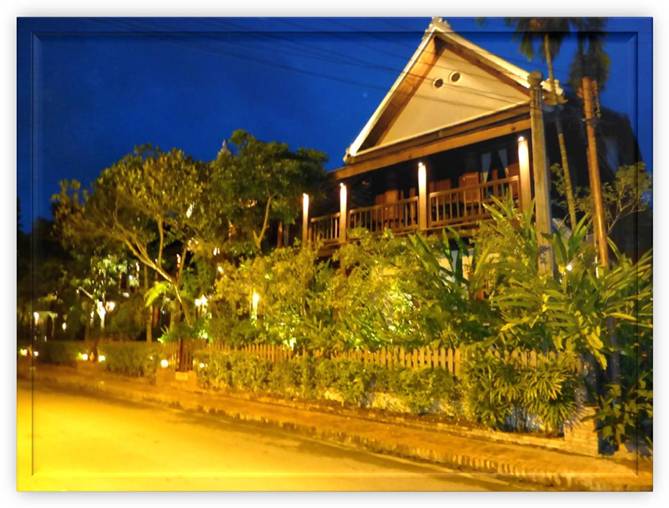 All of the patios have lanterns and coloured lights to make dining at night on the patio very festive.
Tamarind patio.
Inside view of the Tamarind Restaurant.
They made the best butternut squash soup, I had the chicken wrapped in bamboo with lemongrass and John and I shared the soup.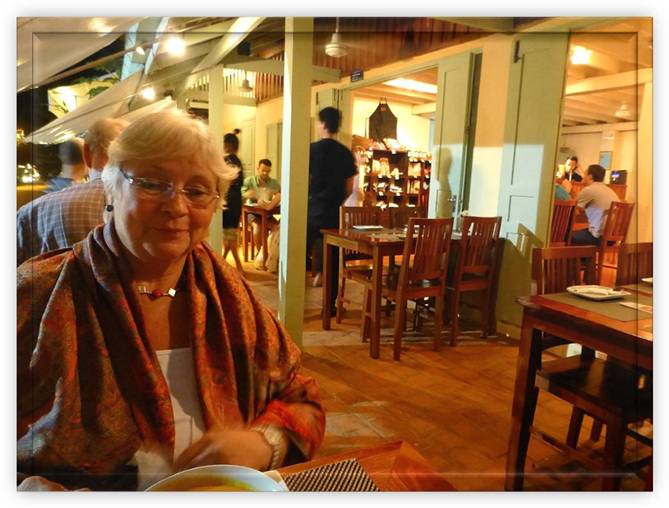 It was cool enough for a shawl, oh happy days, we do love the cooler weather.
Bamboo chicken, John tried a fish dish, but the photo didn't turn out.
Well farewell to LP, we want to come back here so we can explore the town and surrounding area in more detail.
The overall highlight of our time in Luang Prabang was our Elephant Sanctuary adventure….that experience is posted in a separate blog entry that follows……..
---