Photos - Bali Part 6 - Hindu Cremation Ceremony Conclusion...and moving on

Sea Mist > Sold to New Owners July 2016
John and Cheryl Ellsworth
Mon 8 Oct 2012 13:30
The Fire
My handsome cow is starting to burn; at this point her body is still in the back of the cow.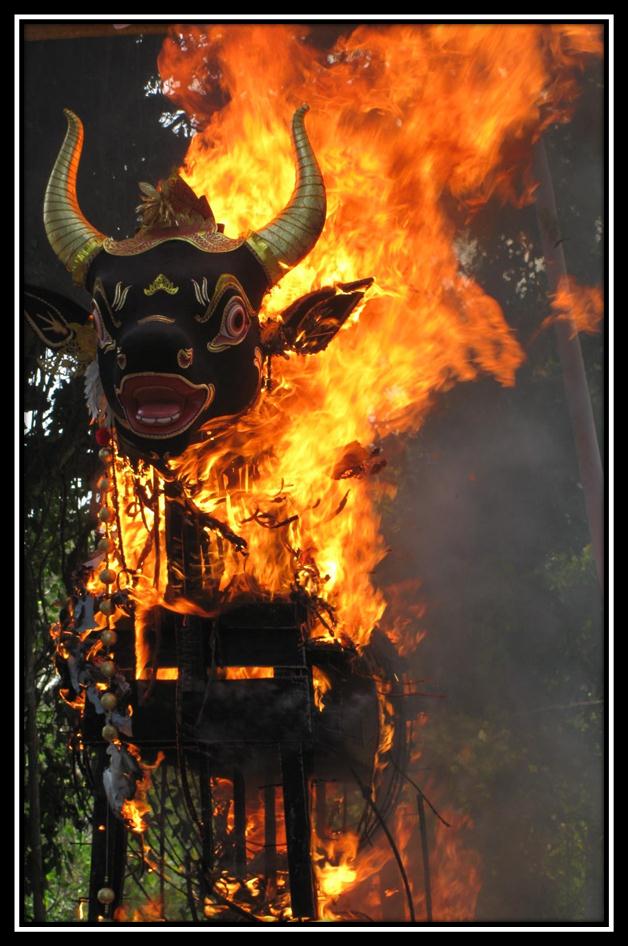 You can see the metal structure that is holding the body
Now we have a burning inferno, what you did smell was frangipani floral scents; I was expecting something different...
They brought the body down so it will burn down to ashes.
So here is the structure, the lady is at the bottom and it will take another few hours for the body to burn down to ashes.
We felt very privileged to be able to experience a wealthy woman's cremation and tried not to break any of the religious rules whilst there.
I thought after seeing the body burning it might be wise to include more photos of the family and friends attending the cremation.
This lady was very stern the whole time she never cracked a smile once and just had to look at the kids and they stopped their talking and fooling around.
Awaiting the body so they can present their offerings.
Bali is a very spiritual place, you just have to look beyond the touristy areas. We returned to our bungalow and enjoyed another great meal at the Lotus Patio some great shots of a lotus flower where I got.
The centre of the lotus flower looks like a yellow plastic pistil or stamen, not sure which.
We also enjoyed a spa, where John got a two hour massage, walking around Ubud and enjoying all it had to offer. We now have to get back to reality and sail off to our next destination, Kumai, home of the Orangutans, Asia's big orange ape!
---