Photos: China Part 7 > Xi'an's Palace Theatre - Classical Music and Dance

Sea Mist > Sold to New Owners July 2016
John and Cheryl Ellsworth
Mon 1 Jul 2013 07:39
Tang Dynasty music & Dance
We were told we would be going to the Shaanxi Grand Opera House Xi'an to enjoy the music and dance of the Tang Dynasty. Peasants would move about using their arms as part of a ritual for prayer for a good harvest and a better life. The Tang Dynasty was open to outside influences and took the best art forms from past dynasties, but more importantly from central and western Asia. The dance illustrates on stage the history, culture and artistic heritage of Xian.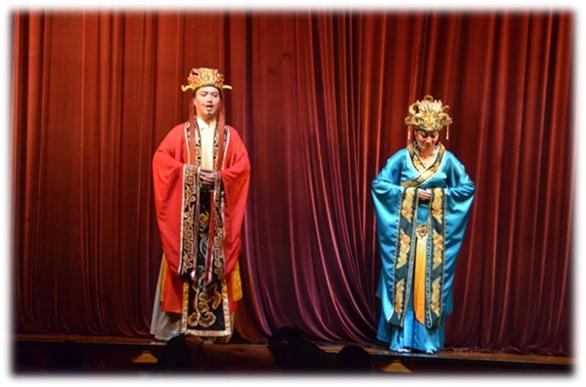 These two individuals introduced the performers to us, the costumes were some of the most elaborate I have seen on stage.
Hua Qing Palace
Conert of traditional music.
White Sleeve Dance
A folk dance very popular during the Tang Dynasty.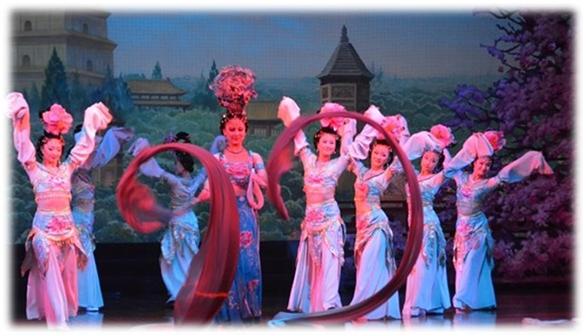 Spring Outing
This depicts a group of young girls returning from a spring outing.
Watching Bird & Catching Cicada
This is a Tang Mural, one of the ladies is watching a bird, the one in the middle is watching a cicada and the one on the right is missing her relatives.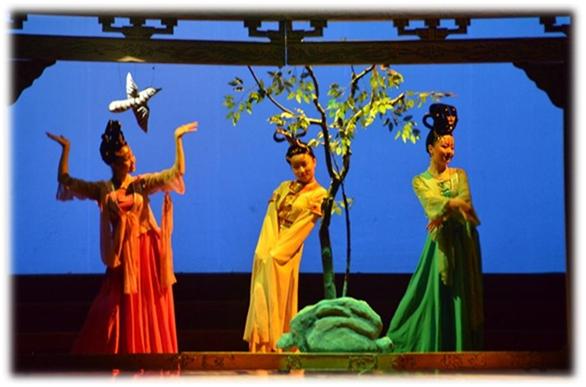 Fairy Dance
Emperor Xuan Zong asked his favourite concubine to arrange and create a beautiful dance from his dreams.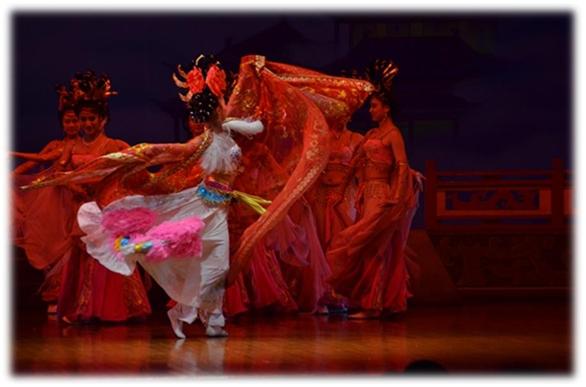 They never changed their costumes but the lighting changed the colours on the stage, so you went from dreamy blue to wild red.
Percussions, Gossiping Ducks and Hungry Tiger
The music shows, through the use of drums, cymbals and gongs, how ducks play, gossiping and quarrelling at the waterside and how a hungry tiger comes down from the mountain grinding his teeth in search of prey. I must admit both John and I missed most of the subtleties of the music.
The final performance was the Great Tang Rites and Music
The dancing took place at the Palace showing the grandeur and glory of the Tang Dynasty. Grand Finale!
The dancers are entertaining the Emperor and Empress
The Empress steps down and dances for the Emperor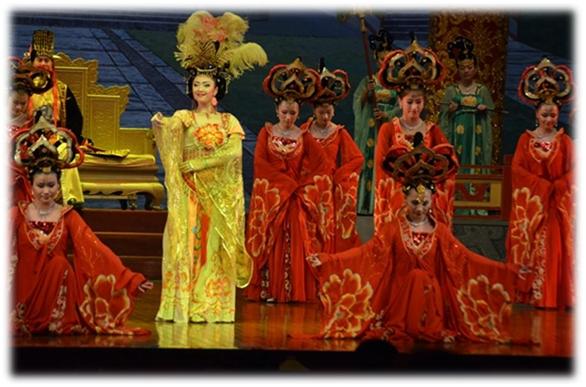 The costumes truly help make the show.
Curtain Call
---