Photos: China Part 3 - Beijing: Temple of Heaven

Sea Mist > Sold to New Owners July 2016
John and Cheryl Ellsworth
Sun 30 Jun 2013 04:14
The Temple of Heaven
The Emperors would visit this temple throughout the year to pray for good crops. They were carried from the Palace to the Temple, a very long walk, and all along the way people could not look upon the emperor as he passed. Today it is being put to much better use, families go there for picnics, there is exercise groups, dancing, games, sports, etc that everyone can enjoy, not just one person.
Look what was growing in a pot, petunias, I am so used to tropical flowers and shrubs, and it is always a pleasant surprise to find flowers we grow at home.
Dancing in the Park!
This sweet old lady needed the fence for support
Our first view of the Temple of Heaven, I'll bet the poor guys carrying the Emperor were happy to see the temple.
It is blue and very beautiful, so much detail work.
The yellow roof pavilion is where the emperor would change his clothes for his prayers; he was dressed all in blue.
This is a great example of the long walkways found in China. This was a great place to get out of the sun or rain and play some majong and cards or just enjoy a cup of tea.
The Pearl Market and McDonalds!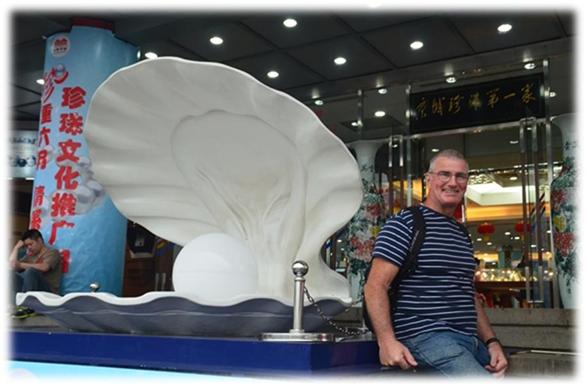 Photo taken before we went into the Pearl Market...the fellow in the background just came out!
---