Photos: Location Report: Ban Thap Lamu - Navy Base > Navy Wives Club Restaurant

Sea Mist > Sold to New Owners July 2016
John and Cheryl Ellsworth
Wed 29 Jan 2014 14:29
08 34.237 N 098 13.12 E
We are now north of the top end of Phuket as we continue sailing up this west coast of Thailand. This is a convenient stop to break up the distance into day-hops on our way north to our intended destination > Ko Phayam
This anchorage is beside a Thai Naval Base with several warships tied up…..and it is also a major fishing port on this coast….so MANY fishing vessels of all sizes and shapes depart late afternoon and arrive back with their catch around 8 am….so we will get out of here about 7:30 am…after experiencing the excellent food said to be had at the Navy Club…great food/low price > seems to be a Thai reality! ….and we get the benefit of a dock to tie our dinghies to instead of having to haul the dinghy up another tidal beach.
I must also add that we had the pleasure of meeting up with SV Tahina as they stopped here on their way south …arriving at same time as us. So that gives us 4 boats to go together for dinner; Tahina/Kilkea/Jackster and Sea Mist….great friends….a good evening for certain.
Oh…forgot to mention: this is also the departure point for dozens and dozens of higher speed day tripper boats (equipped with 4 or more of 200hp+ outboard engines…they head out daily full of tourists who want to dive/snorkel/sunbathe at the Similan Islands…..we dropped anchor just before 4 pm when the first of this fleet came into the channel…..and they kept coming constantly over the next hour…..as the fishing boats (some big with 20+ crew) were leaving….a VERY BUSY channel with us anchored in the middle with the day trippers passing a few feet to our west and the fishing boats passing a short distance to our east. Quite a spectacular scene!
Let's take a look through the camera >>>>>>>>>>>>>>
Ban Thap Lemu
This is an extremely busy bay, not only are there navy ships but the fishing fleet come in here as well as the many many dive and tourist boats.
We found it very strange that the naval ships were very close to us as well as all of the tourist boats going to and from the dock.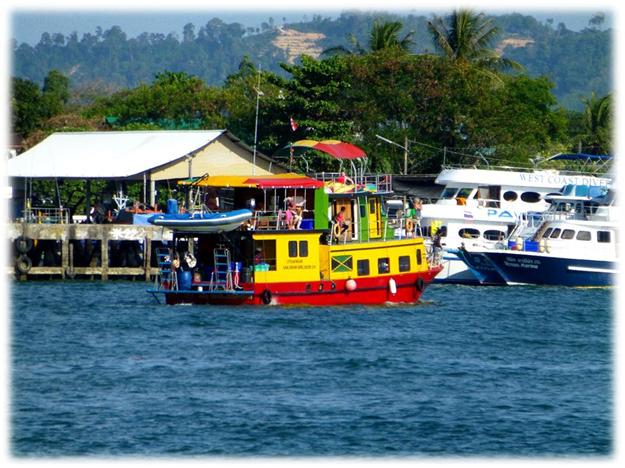 Great colour for the dive boat, you couldn't possibly miss it when you are out diving, there was a very large Padi Dive boat and smaller ones, great diving area.
The fishing boats have a look of an old pirate boat.
We are getting ready to go into the village for dinner and these boats are all going out to get fish for dinners.
The town was empty, we were the only ones walking along the streets, except for a couple of motor bikes.
This is the hardware store where we got our flashing green lights so when we are at anchor we can find our boat at night and other boats can see us.
The Angry Bird Tuk Tuk.
Very tiny fish
Finally people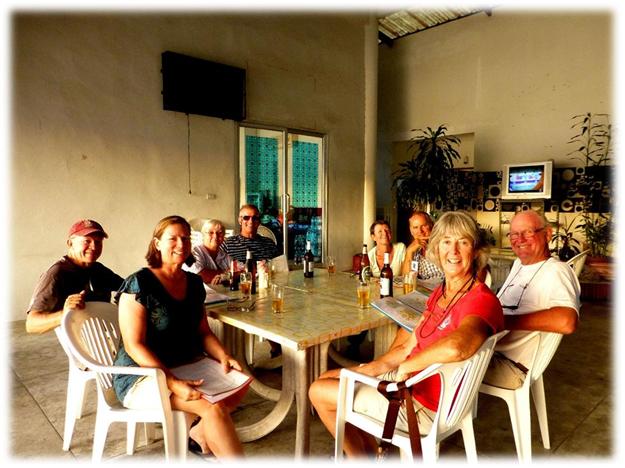 ---