Photos - Bora Bora - Part 2

Sea Mist > Sold to New Owners July 2016
John and Cheryl Ellsworth
Wed 11 Aug 2010 19:00
<![if !vml]>
<![endif]>
Stingrays, can you see the evil eye?
They are definitely like being together and play with each other.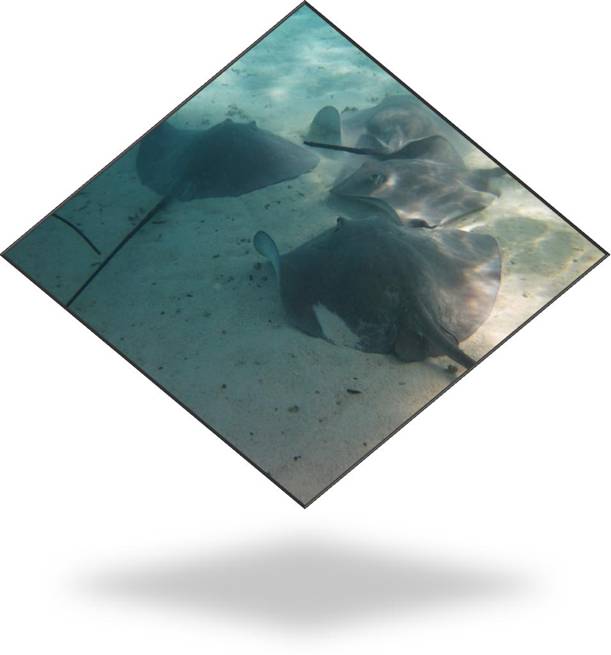 Lemon Shark, you can't tell by the colour but you can tell by the shape of the tail and the dorsal fins. My camera seems to make everything very blue when it is down to 33 feet, not enough light.
This is a really good shot of a Remora. You can see the top of their head looks like a footprint, they use to attach themselves to sharks and mantas.
These little Lemon Peel Angelfish are one of my favourites. They are so yellow with the blue ring around them and their eyes -Mother Nature never stops amazing me.
Yellow -banded Pipefish. When Ian and I were looking at the Pipefish we remarked it looked like elongated Seahorse and thought it was a worm, when we looked it up in the book they are related. Very hard to get a good photo the wave action was pushing us into the coral and he really blended in with the coral he was lying on.
These guys hang out on the bottom using a coral head for protection.
<![if !vml]>
<![endif]>
In the 1970's, a Polish noble, the Baron Jerzy Hubert Edward von Dangel came to Bora Bora. He opened a seafood restaurant called Bloody Mary's and in the late seventies sold his restaurant to Dexter Hewett. Thirty years later this restaurant is still very popular with celebrities, yachties and resort guests. This is one of the places that is a must visit while here. The restaurant built in the old Tahitian style, thatched roof, open sides ,sand on the floor and stools made of coconut stumps has a relaxed atmosphere and serves great food. They have a booth at the entrance where you can leave your shoes. They are famous for their fresh seafood and Bloody Mary drinks. Bloody Mary's is to the Pacific as Foxy's is to the Caribbean…
This is what happens when you have too many Bloody Mary's.
The infamous Bloody Mary Drink.
You pull up a stump, move it around in the sand and then you are ready to eat and drink.
Sea Mist waiting for her crew.
This is a nice quiet bay just a few minutes from Viatape, the colour of the water is unbelievable, it goes from celadon green to azure.
Just one of the many resorts to be found on Bora Bora.
<![if !vml]>
<![endif]>
---