Photos - Vietnam Part 1 - Ho Chi Minh City (SAIGON) - first impressions

Sea Mist > Sold to New Owners July 2016
John and Cheryl Ellsworth
Tue 30 Apr 2013 10:15
Saigon - HCMC
We arrived in Saigon – HCMC, (I am not going to use Ho Chi Minh City-too long) and thought the traffic was heavy in Cambodia, but this was something different altogether. I once again have to apologize for the photos, but they were taken through the glass window of the bus and travelling at a pretty good clip throughout the city.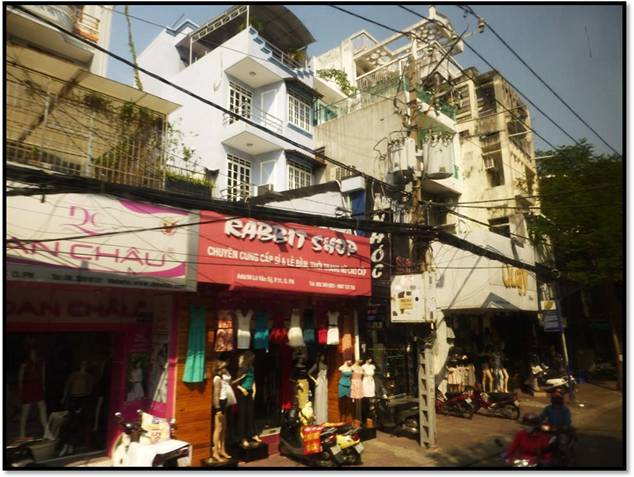 I thought the name Rabbit Shop for a dress shop was different.
We were quite caught up with the lines or wires there were so many!
We passed this really nice canal without the wires or lines and then...back to the lines
They use plastic ties to hold up the lines, kind of like using duct tape – some things are used around the world.
Waiting for the light.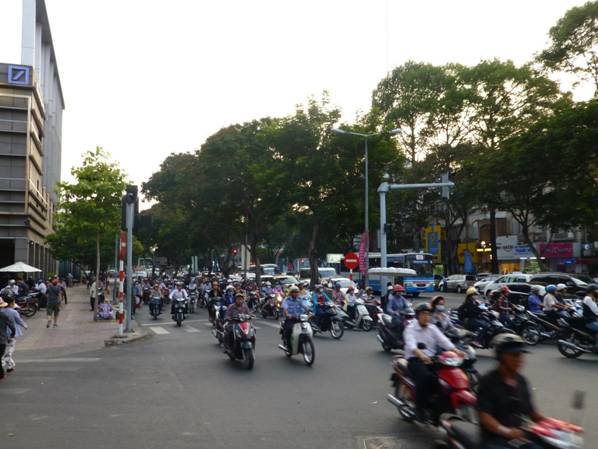 Lots and lots of bikes
We checked into our hotel and they went off to explore Saigon and get a bite to eat. We found a place close by as we were hungry.
After our dinner we went off exploring again.
Lots of artists. We found many of the art shops seemed to carry the same kind of paintings, but there were a few with unique and original paintings.
They used arcades to connect one street to another, and lots of souvenirs kiosks all along the way to tempt tourists.
Here are some night scenes of Saigon right around our hotel.
This looks like the Floridian at Walt Disney World, Florida.
I took this photo because of the decorative filigree on the awning.
I got some good shots from the top floor of our hotel. We found that most of the hotels we stayed in Cambodia and Vietnam had their dining rooms on the top floor of the hotel, great for photos.
Close up, one morning we watched a large procession gather in front of this building, they were waving flags and someone was on a bullhorn, but we never did find out what it was all about.
Tomorrow the Mekong Delta. We booked a tour rather than trying to do it ourselves.
---