Photos - Palmerston - Part 2

Sea Mist > Sold to New Owners July 2016
John and Cheryl Ellsworth
Fri 20 Aug 2010 21:00
This is the new church, the original burned down a few years ago.
<![if !vml]>
<![endif]>
A little more relaxed than the yacht clubs back in North America.
This is Bill he runs the yacht club and The Country club.
Relaxing at the yacht club.
<![if !vml]>
<![endif]>
A Picture is worth a thousand words…
The Fire Station and Equipment Room, and yes the blue floral shirts are part of their uniforms.
Very Chic.
The school, grades one to six.
This is the school room for students from grade seven to twelve. Yvonne, who is married to Tere teaches the older grades and is the principal for both school buildings. Yvonne was showing us around the classroom and
explaining how she was able to manage
this many classes, and over in the corner the older kids were fooling around and getting louder and louder, kids never learn do they, Yvonne is very slim and speaks very quietly but when she needs to make the kids pay attention she firmly yells out oiii…and much shuffling and murmurs then all is quiet again. This was the last part of our tour; time to watch BBQ some freshly caught Parrot fish.
Bob getting ready to BBQ parrot fish.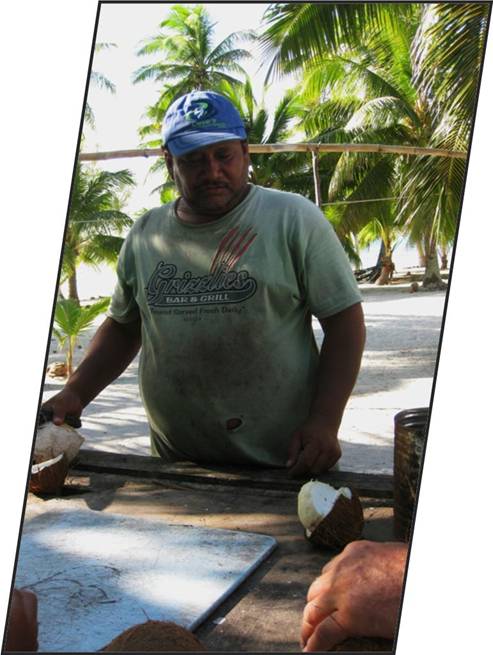 After lunch there were a few things we could do, just hang out and learn more about Palmerston, or…
Play with the crabs or,…
If you whistle they will come out of their shells, or else Bob thought it was funny to watch the tourists whistle at the crabs!
watch the chickens eat, or…
Watch the kids playing kick the ball and catch the tennis ball or…
Play volleyball or…
Enjoy the view or…
---