Photos: Bali - Part 6: Tanah Lot and Kecak Fire Dance

Sea Mist > Sold to New Owners July 2016
John and Cheryl Ellsworth
Tue 9 Jun 2015 10:00
Tanah Lot
Tanah Lot means Land in the Sea, legend has it that Dang Hyang Nirartha saw the rock island's beautiful setting and rested there. The local fishermen brought him gifts, he told the fishermen to build a shrine on the rock as he felt it to be a holy place to worship the Balinese sea gods. This temple is one of seven sea temples all built within eyesight of the next temple. They form a chain along the south-western coast of Bali. The temple's rock face was starting to crumble, it was restored but much of the rock is artificial.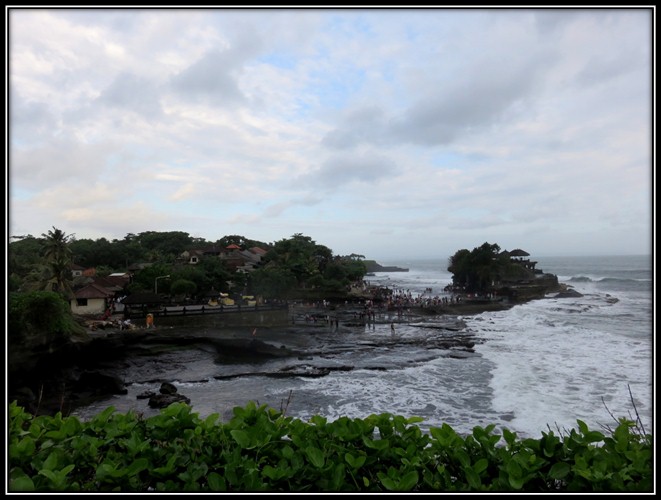 You can walk across the beach to the shrine at low tide, we didn't have time as we were also here for the Kecak Fire Dance
This is the shrine the fishermen built in the 16th century, now made up of 21st century artificial stone, it is nice to see that they are maintaining their temples and shrines.
Not a great day for a sunset, but the seas put on a great performance.
This was a pretty little temple across from Tanah Lot.
The surf was really rolling in.
The Kecak Fire Dance
This is a dance that tells parts of the Ramayana, a Hindi epic. What makes this unique is the music comes from a choir of men sitting in concentric circles, swaying or standing as the story unfolds using a combination of sounds or 'cak' and one person to deliver the story. The story begins with the arrival of Rama and Sita and Rama's brother, the demon Rahwana, King of Alenka want the beautiful Sita, he tries to seduce her, trick her, as he wants her for himself or so the story goes. In the end there is a fight hard to tell who the victor is, but they do dance on the fire.
The men's choir, there were about 30 men all creating different sounds according to the story.
The girl in green is Sita and the girl in blue is Rama.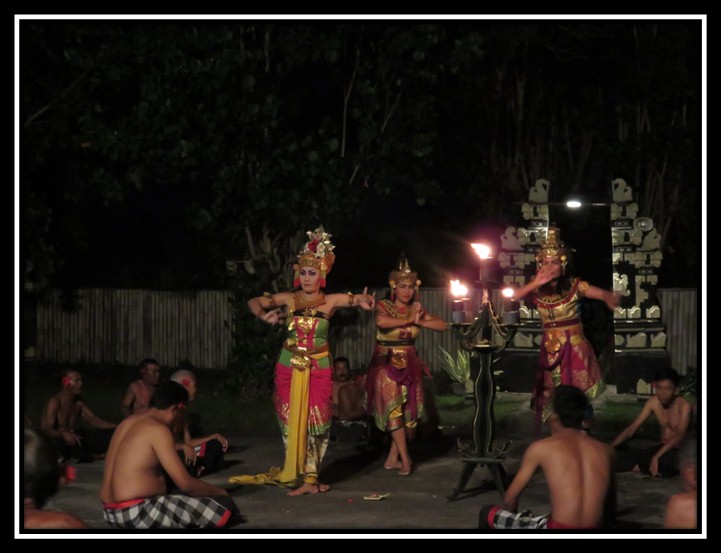 Rama's brother came into the circle, he is there to protect Sita from the demon.
The arrival of the demon, he comes in many disguises, a golden deer, and old hag who needs food, sort of like Snow White and the Seven Dwarfs. Sita is captured by trickery and has to be saved.
Another disguise for the demon.
They dance around and through the fires.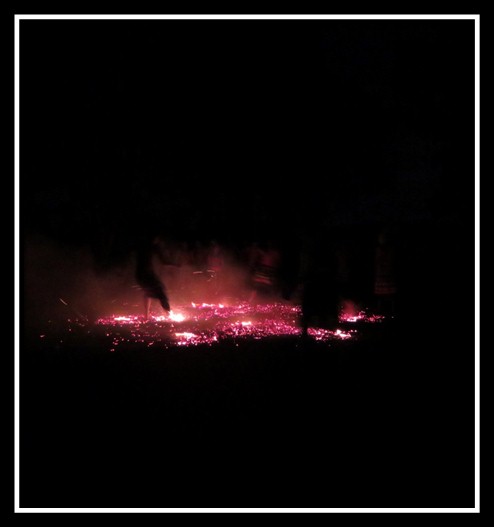 A number of them walked on the red hot coals.
Rama with her bow and arrow trying to kill the demon. We would have been able to follow the story if we could speak Balinese, the story teller is hidden but has a commanding voice.
The End.
---