Photos - Vietnam > Dalat Part 2

Sea Mist > Sold to New Owners July 2016
John and Cheryl Ellsworth
Tue 30 Apr 2013 17:38
Dalat
We left the lake to explore the streets that twisted up and down hill and to find a place to eat.
For those of you who know Tin Tin, this restaurant must have some French influence and it brought back memories of the Tin Tin books.
It was easy to find a place; the street address is over their doorways. In Malaysia this is not done with any accuracy, which of course makes it very difficult to find buildings.
The market and a familiar sight, women carrying loads on their shoulders and women wearing masks.
Little mini garden centres right off the sidewalks and they were selling poinsettias, I haven't seen poinsettias for a long time.
The ladies will sell their fruits and vegetables right on the sidewalk; they sell everything they can along the sidewalks.
The streets were not busy with traffic like Saigon, yea!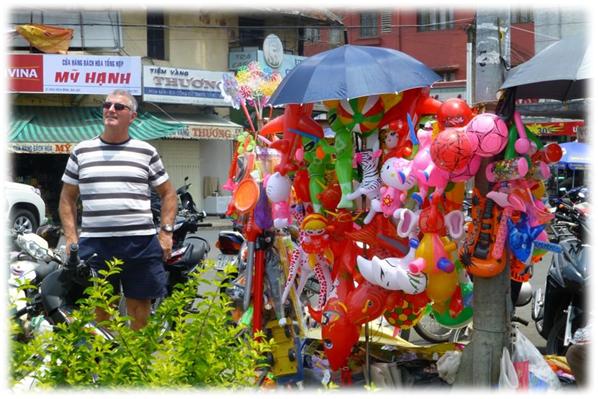 Most of the store keepers have their lucky birds in cages and take really good care of them...and they don't eat them!
We found two restaurants right across the street from each other that were recommended by the Lonely Planet, we ate at the Chocolate Cafe and the food was great as well as lots of tourists to network with.
What a great way to advertise a dress shop!!!
I love the quirky signs.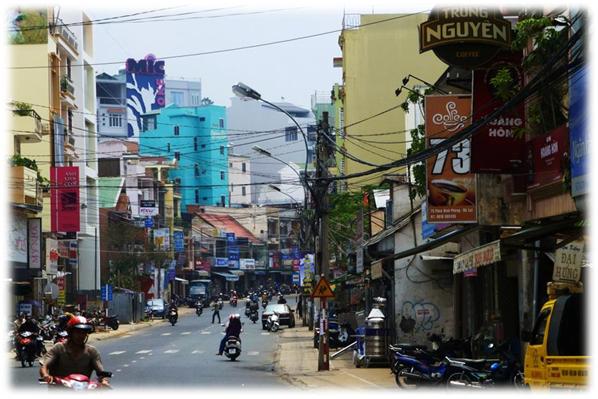 Chicken and Pork street vendors were all over the place, we watched people stop and get a piece of meat and off they would go.
Time for bed, tomorrow we have a busy tour day.
---