Photos: New Year's Eve at Patong Beach - Part 1

Sea Mist > Sold to New Owners July 2016
John and Cheryl Ellsworth
Fri 2 Jan 2015 10:00
Patong Beach
Here it is December 31, 2014 and we are ready to herald in another new year.
This year we will be spending New Year's Eve, with Peter and Evelyn of S/V Renegade, Karen and Frank of S/V Kokomo and Steve and Liz of S/V Liberte at Patong Beach, Phuket, Thailand.
We started off at a bar that actually had some room, we got to watch one of the Costa Cruise Ships disgorging all of their passengers onto Patong Beach to enjoy New Year's Eve, as if it wasn't crowded enough! Last year we had a wonderful time drinking champagne with Marian and David on Kilkea on the beach on Rebak Island Marina, but so much quieter, we have spent seven years of holidays and special occasions with Kilkea. 2015 will be the first year we will not be with them for all of our special occasions and holidays…but we always have 2016!
John, Karen and Evelyn at our first bar for the evening.
My anatomically correct glass called a Phuket Delight!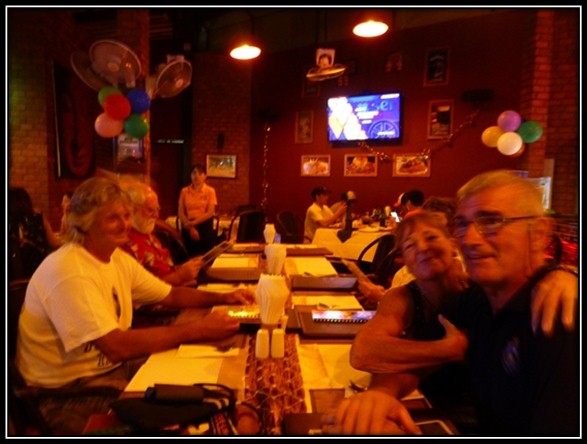 Here we are at the Delish Restaurant, they catered to everyone's palette. Lots of seafood dishes.
Part of our group
The next few shots are of bars we passed along the way to our playtime bar…interested to see more?
Truly, this girl is in great shape, she can do things on the pole that – well - she is very good!
John pretending that he is not looking at her ass! He really wanted a photo with this girl, now was it the clothes, the tattoo or the hairdo?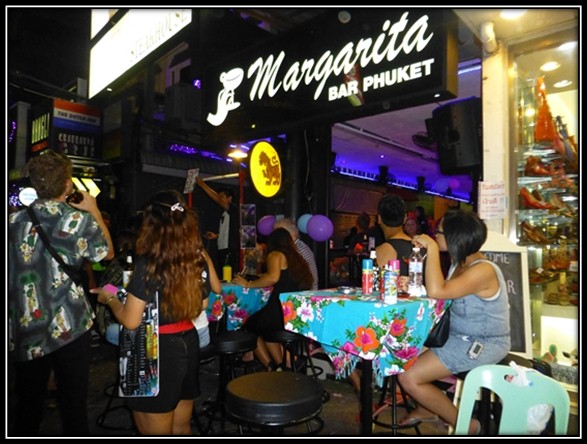 More bars, they are so busy that you wonder how all of the servers can get to their customers, seriously, really, really busy.
We missed this show…we had playtime!
---