Photos: China Part 9 - Chengdu > The City

Sea Mist > Sold to New Owners July 2016
John and Cheryl Ellsworth
Mon 1 Jul 2013 10:16
The Other Chengdu
We stayed at a green hotel, beside the river. It was a nice walk…. day or night….5 minutes….to Bar Street and an adjacent promenade along the river's edge.
The best thing about our hotel's location is we felt like we were in the country when you walked along the river, except of course for the skyscrapers and there are parks very close to the hotel, yet we could hop into a taxi and be downtown and in the centre of things, we would highly recommend this hotel to anyone visiting Chengdu.
Day and night shots are so different
There is a restaurant on top of the bridge, we went there one evening, what a romantic setting, but we could not find anything on the menu we wanted to try, intestines, tongue, cheeks, feet, beaks, nests, tendons and so on, all very exclusive and looked liked a work of art on the plates, but alas, a little too exotic for us.
The front of the restaurant was for the public the rest, two stories and all were private rooms.
Bar Street
You have no idea all these bars are here during the day, they are closed up tight.
The next night we went to the centre of Chengdu, we were told that just a couple of streets from the main shopping area we would find The Big Alleys and Little Alleys. We ate dinner downtown and roamed around ….then off to the Alleys.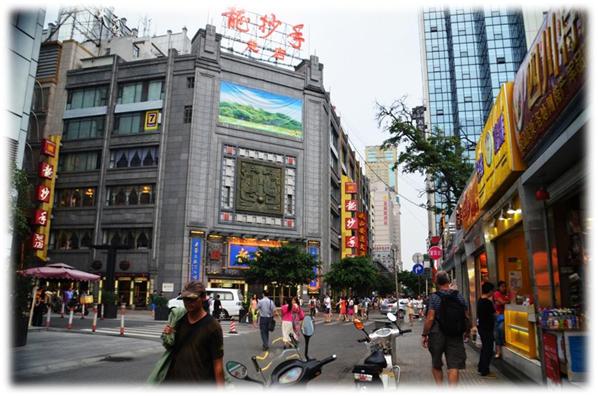 The old and the new – just seems to be part of the cities in China.
Downtown Chengdu
Big Alleys and Little Alleys
The little alleys were for the soldiers, the homes were much plainer, but the big alleys were for the military officials and just how high up the ladder you were would be reflected in your home.
John catching a ride on a rickshaw.
The military are gone and in their place are great restaurants, shops and tea rooms.
These were very large homes, if you go into one of the restaurants you realize just how large they were.
He is sculpting faces, famous and from photos, some sort of a clay polymer, very thin.
This was a display in a shop window, the amazing thing is the flower, and the boy are done in crewel work, can you imagine the cost of something like this in Canada just for a display window.
As we were leaving we met a group of women just dancing in the square for the fun of it, very impromptu.
---