Photos - Singapore - Part 1

Sea Mist > Sold to New Owners July 2016
John and Cheryl Ellsworth
Tue 4 Dec 2012 15:07
Singapore
We arrived at 1degree, 15 minute Marina in Singapore; this is going to be our home for the next couple of weeks. We had to cross a very busy traffic separation lane.
Our first glimpse of Singapore
The entrance to the marina
These are the kind of pet dogs you want, colour co-ordinated and never need to walk them.
Our home for the next two weeks.
We enjoyed the marina and all of its amenities. They had a Cold Storage Grocery store 2 minute walk from the boat!!!
We went out for dinner at the Chatter Box and noticed that the Christmas lights were starting to be put up.
Merry Xmas!!!
This is just the start of their Christmas decorations.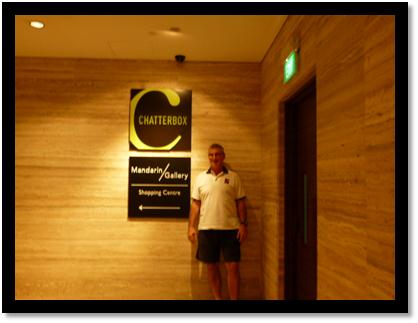 This was John's first night out after his hip replacement. We stayed at Marian's (Kilkea) cousin's (Pat) apartment for his first week out of the hospital as he was on crutches.
Always a familiar sight.
There are malls everywhere in Singapore.
They have great wall decorations.
---