Photos: Grocery Day In Langkawi - Part 3

Sea Mist > Sold to New Owners July 2016
John and Cheryl Ellsworth
Wed 12 Nov 2014 11:33
When we are back in North America, we have talked about the toilets in Asia - we are very fortunate at Fair Shopping Centre to have three toilets and one hole, and here they are…
The Squatter
When it comes to the western style/conventional toilet, the floors are always wet from the hoses being used - as Malaysians use water not toilet paper after "taking care of business"….be careful about which hand you shake when you greet someone in this part of the world!
You must always bring wipes or toilet paper – it is just never there –NEVER - because you have a hose to clean yourself, if you so desire. I have noticed they are putting up signs asking the people not to stand or crouch on the "western" toilet seats when they use the hose…they keep breking the seats by standing/crouching on them when there are no squatters available. OK>>enough on toilets.
We have to shop in various stores as they tend to have problems keeping the fruits and vegetables fresh as well as finding just what you want in dairy, pasta, canned goods…. our shopping day is like a scavenger hunt…. only we hunt for groceries.
Our first task, find really good meat. We used to go to the Pok Bros but now we have found another meat man who has the best beef!!...to be found anywhere!!!... Wagu/Black Angus tenderloin from Australia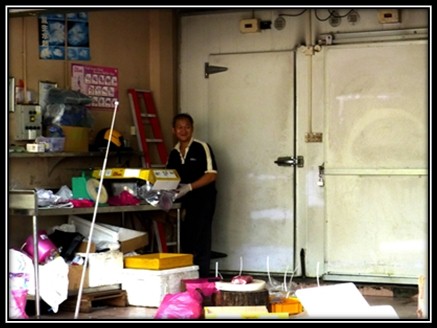 This is Mr. Chew, one of the first founding Chinese families to come to Langkawi, he is our beef man, he also has minced meat that doesn't turn to mush, I have never seen minced meat that was so mushy it looked like baby food.
He uses part of a tree trunk to use as a cutting board to cut up his meat, just what every kitchen needs…
After a while you get used to seeing meat prepared outdoors and eggs that are never refrigerated, geckos on the walls, it just makes our grocery shopping more a little more novel.
Here we are at the local outdoor market at Matsirat, we get more of our fruits and vegetables here as well, plus you get to play with the kittens and learn about fruits and vegetables we have never seen before!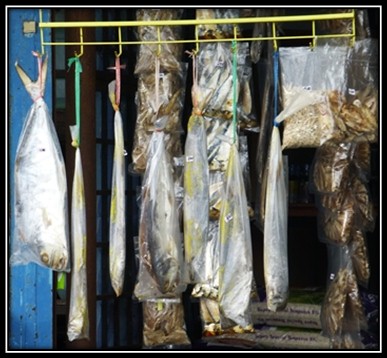 Fresh & dried fish
Fresh!
It is funny how we find certain vendors whose produce we like, this lady always has nice fruit, especially the small bananas John loves, and the huge grapefruit with hundreds of seeds in them.
Our usual cloud burst, you just have to wait until there is a break in the downpour and run to the car.
Our last stop, PL Soon Haut (locally referred to as Mr Soon's) ………seen through a watery windshield.
This is where we get our frozen, dairy, fruits, vegetables, baking, grains, pastas, and yes, it does look like another box store.
The rain has stopped so we can load up the car and drive back to the ferry to take us back to Rebak Island. This is the view across the street from the makeshift ferry landing tent building.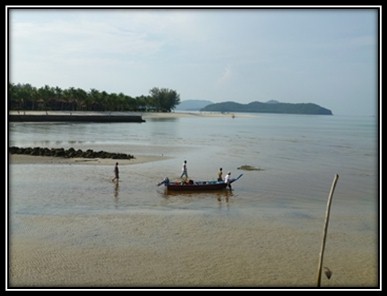 You can see why they might have a problem coming into the dock….the fishermen have to sometimes walk their boats out a fair distance in the shallow access channel until they can float their boat and motor away.
5:45 PM > Back at Rebak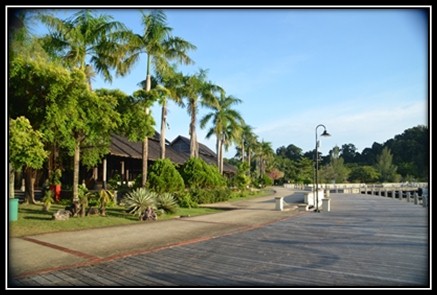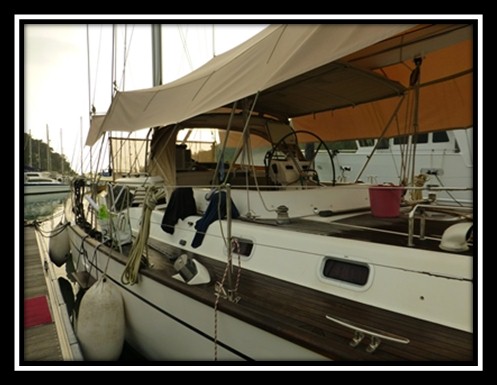 Good old Sea Mist waiting patiently for her crew to return, so not only have we travelled all over Langkawi on our grocery scavenger hunt in 32+ C heat but we still have to load the groceries on the boat then put them away yeh!
You look at this photo and think the fridge isn't very full, we still have two more large grocery bags to empty into the fridge and then we are done! I really should take a photo once we have all of the food in there, only you wouldn't know what it was, just a large load of fruits and vegetables piled on top of each other.
And this is how we go grocery shopping in Malaysia…
Steam rising off the hills - just kidding it is smoke - they were burning all of the leaves they rake daily.
We are ready for dinner and maybe a movie, good night!
---