3 Bs -Brunch Bikes Beer

Scot Free III
Frank & Anne
Sun 3 Oct 2021 20:31
Sunday, Brunch Day by tradition. Third visit prompted the Chinese lady owner to ask where we were staying, for how long and how much we were paying. She wanted to offer us a deal and the Motel is their nearest competition. F in full banter and negotiating mode said we were paying a fraction of what we are. All very amusing and took us back to our days in the Far East.
Bike day, too. Having cleaned all the paniers, today saw us removing the Bromptons from under our bunk. More mildew. Nothing for it than to wash the bags which hold the bikes, so off to the washing machine again- I have my own key to the laundry room! F started on the servicing and cleaning of them.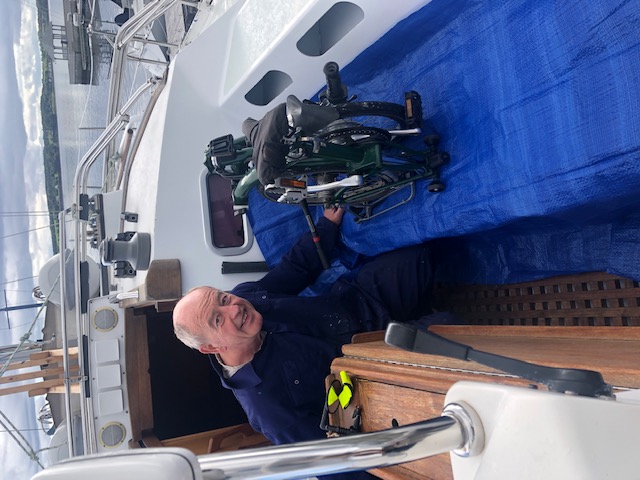 Meanwhile A got under the bunk with the mould cleaner and did her best! Made a note to put " moisture grabbers" in there before we leave- dry pads that turn into gel as they absorb water.


Realised nothing for it but to take bikes off the boat to closest water tap to degrease chains thoroughly and to use liberal amounts of Muck-Off to clean the frames.
Waiting for bikes to dry, a beer was in order. Sadly the rain started and bikes have been bundled into back of The Beast to hopefully dry. Don't want to introduce anything wet on board.
On drive back, reminded it's that time of year again. This takes Halloween to another level.

---