Chaos reigns still/again

Scot Free III
Frank & Anne
Fri 25 Oct 2019 21:59
Just on the off chance people are thinking we're having a fun time exploring Cape Breton, these pics tell the real tale.



Both aft cabins have been emptied so Chief Engineer( he has many titles!) has access to the engine for major maintenance. Day 3 and ongoing!
A has been wiping all surfaces with vinegar( protects against mildew) emptying cupboards, washing and drying anything and everything in sight.
Normally our sails go to a sailmaker for inspection and washing. Closest is in Halifax, 4 hours away, so all four of them are down below. Unsurprisingly, no room for us, so have been in an Airbnb since Sunday. A rather disappointing flat, clean, tired but convenient for the boat and shops, in particular Home Hardware and Canadian Tire ( rather like B&Q) It serves the purpose and we're half way through now but I wasn't impressed with the rat in the outside food waste/compost bin!
F's namesake was moored near us the other day! She would be much easier to put to bed!



Decks all cleared and lines removed ready for the boat to be wrapped this weekend. Weather should be kind. Glad to hear that they recycle the plastic here - the company cuts it up and puts it kerbside for collection! (ed. Not quite. We will cut it up and put it in kerbside bins F) OMG that wasn't part of the deal.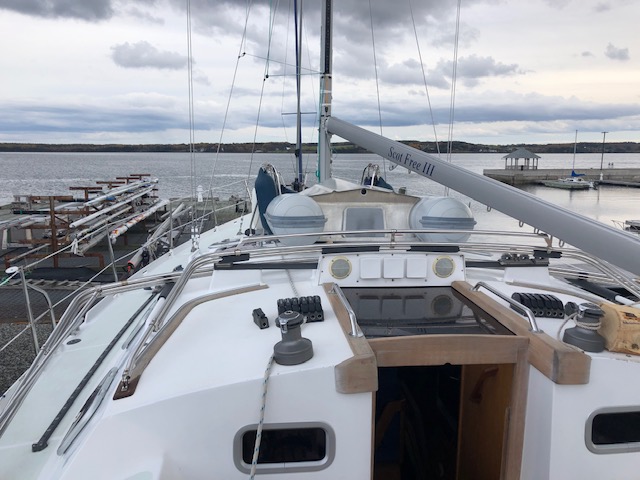 ---