Not again!!!!?

Scot Free III
Frank & Anne
Sat 15 Sep 2018 22:29
Walked to Fort McClary, at mouth of Piscataqua River, used throughout 19th C to protect Portsmouth Harbor. Some kind of fort has been here since 1689.
On to Frisbee Wharf with a provisions store- of sorts, nothing for us though. Had a delightful outside dining area overlooking the harbour, so succumbed for first time to the famous Maine Lobster Roll. Delish!
Uber again into town to African Burying Ground Memorial: Segregation in death as in life!
Off then to Prescott Park overlooking Portsmouth Naval Shipyard, where they overhaul, repair and modernise submarines.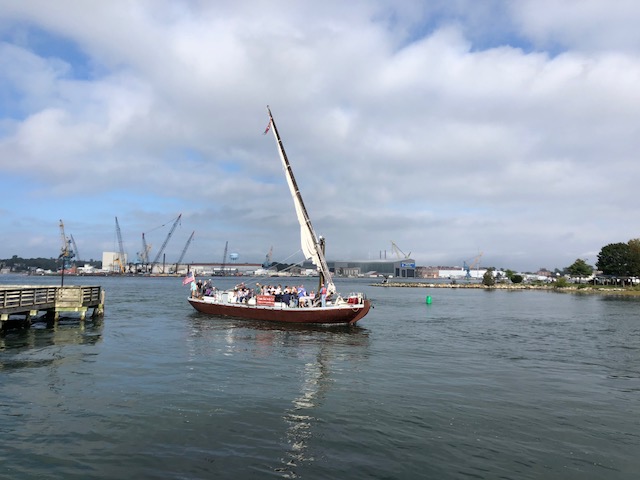 Saw a replica gundalow, flat bottomed boat with lateen sail used to transport cargo under the bridges up the 7 rivers estuaries in Portsmouth Harbor.
This outdoor area attracted a number of radio hams with all their equipment and a large number of people in costume being taught some ancient throwing game. It was all beyond us!
Day ended with minor panic. Just got to bed and heard the sound we hoped never to hear again, the scurrying of tiny feet on the deck. Not again!!!! Enough to drag F out of a deep sleep to investigate with a torch only to find a squirrel climbing the mast. Lots of them
in the river, swimming, running along the pontoons, climbing trees and burglarising(sic) bird feeders. Back to bed and it had gone by morning. Spoke to local boaters who said they were a real problem because not only are they swimming squirrels but flying squirrels. They glide from tree to tree or boat to boat. Aaarghhh!!!!
---