Whoosh!

Scot Free III
Frank & Anne
Fri 24 Aug 2018 18:30
Quissett Harbour. 41:32.4N 070:39.5W
Went alongside to pump out the holding tank (enough said), dump the trash in the dumpster(got the lingo)and filled up with water. It makes a change not to have to pay for it.
Had to time our passage from Martha's Vineyard through the strait at Woods Hole to coincide with slack water- it can be very turbulent and slow if against the current.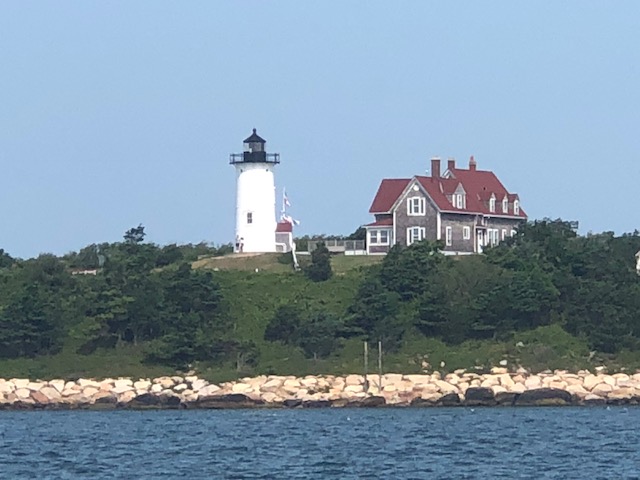 Passed Nobska Light, the lighthouse marking the division between Buzzards Bay and Vineyard Sound in Woods Hole, on the southwestern tip of Cape Cod
Made our way to Quissett Harbor and now on a visitor's buoy.
Lovely quaint village, lots of stylish houses (old money) a boat yard but no facilities so hopped onto the Whoosh Trolley Bus- concessions $1 each, to Falmouth. It goes up and down the peninsula between Falmouth and Woods Hole during the season, until Labour Day, 3rd September.
Picked up a couple of replacement items for the galley in a fantastic kitchen shop. The return trolley bus whooshed past so just had to go into the Irish Bar for a Guiness while we waited for the next. Fond thoughts of our time with The Crillys.
Now awaiting the sunset over Buzzards Bay which is reputedly stunning.
---