Cleopatra marina, Preveza 29-Aug-19 1230hrs 39:39.004N 20:45.734E

Westralia
Steve Coughlan
Thu 29 Aug 2019 12:30
29-Aug-19 0930hrs
Departed Parga
29-Aug-19 1230hrs 39:39.004N 20:45.734E
Tied along side on outer finger, Cleopatra Marina. The boat lift was scheduled for 1430hrs. In the meantime we removed and folded the jib, genoa and mainsails and stored them in the respective sail bags. The lift was delayed so we continued on and moused out all the halyards and running rigging, loading the sails and rigging onto a trolley. At 5pm the boat was lifted and placed at a convenient location close the yard offices and chandlery. The yard is very professional with a capacity of 1,500 yachts on the hard. We were pretty knackered after the sail and derigging work and headed into Preveza in the dinghy to check into Petite Fleur. Had a shower, checked out the town before dinner and then an early night.
30-Aug-19
In the morning we went to the port police to organise the transit log, then to Vodaphone to get more data, then over to Cleopatra yard in the dinghy. Checked in with the admin office to organise payment and then to the technical office to organise the various work to be completed by the yard (copper coat sanding, engine and genset services, dinghy storage and outboard service, battery management, interior ventilation etc.). From there we took a taxi to the airport to organise a hire car, back to the yard where we loaded the sails and rigging into the car for delivery to North Sails in Piraes on Monday Sep 2. Sails require minor wear and tear repairs, will be washed along with the rigging, then stored by north sails until pick up in the 2020 season. Continued on with prepping the boat inside and out, stripped our each lazerette and checked the respective bilge pumps, cleaned the lazerettes, removed and washed every warp and docking lines leaving them to dry before returning to the lazerette tomorrow. John carried out work inside boat including replacing 240v GPO in forward berth, replacing failed sink plug in forward head, general internal cleaning including fridge and freezer etc. Anchor was lowered to ground and all chain discharged and laid neatly so chain will not sweat in anchor locker during layup. Wrap main sail furling gearbox seal with cloth to minimise deterioration over layup.
31-Aug-19
Continued with the boat prep. Removed 25hp outboard from dinghy transom and placed on pallet ready for service. Removed existing battery box from dinghy transom and confirm new sealed battery box would fit. This will be finalised on recommissioning in 2020. Clean inside of dinghy and sponsons, turned dinghy over and cleaned underside hull, sponsons and transom. Stored warps and docking lines in SB lazerette, removed bimini covers and stored inside boat, washed all external boat seat cushions, washed the fender socks and inflatable fenders.
01-Sep-19
Continued boat prep. Stored all cleaned cushions and stored in forward berth, washed topsides and then examined for any gel coat blemishes requiring attention, marking them with blue tape. Fit various winch covers, clean exterior of water hoses to store in forward head as they sweat and gather black mould if left in exterior locker. Final clean of aft head. On Monday Sep 1, John and I will drive to North Sails in Piraes to drop off the sails and running rigging for cleaning, inspection, repair and storage until next season. John will return Monday afternoon to Preveza and Tuesday he will finalise work to be done with the Cleopatra technical team. I will return to Perth from Athens via Dubai on Tuesday Sep 2.
Job well done by John, again.
Boat is lifted at Cleopatra marina
Emptying the lazarettes to inspect and clean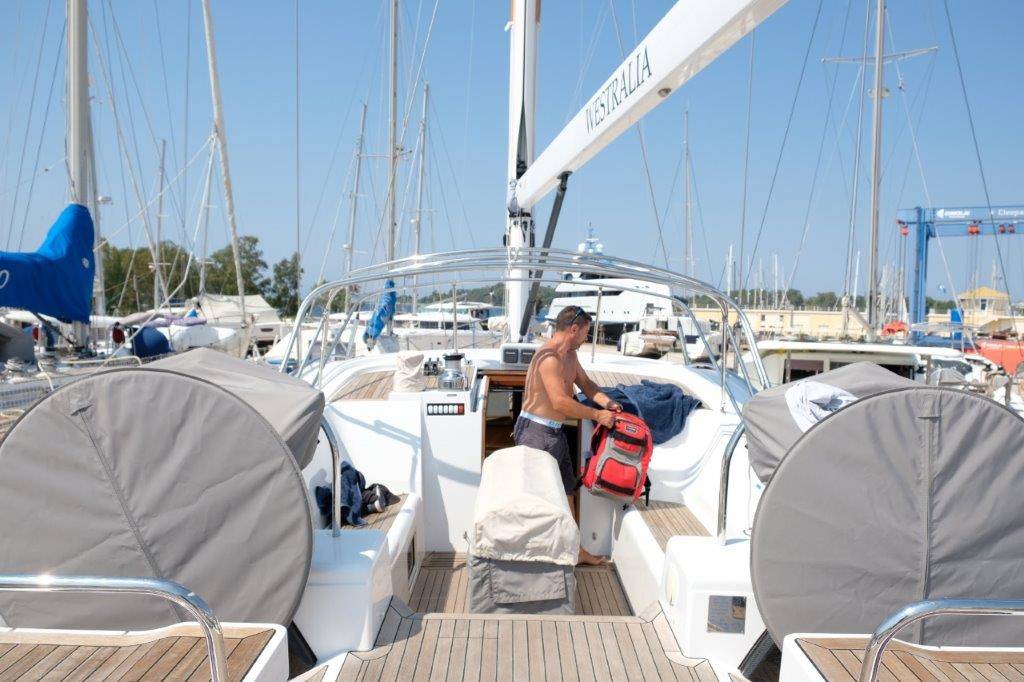 All sails and running gear removed, all removable fittings stripped off, cleaned and stored, cushions removed , cleaned and stored.
All covers fitted
Mainsail furling gearbox seal wrapped in cloth to minimize derioration over the layup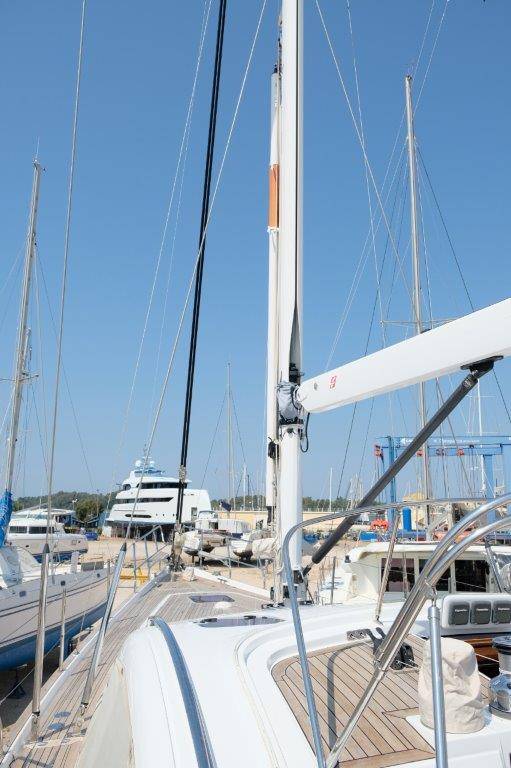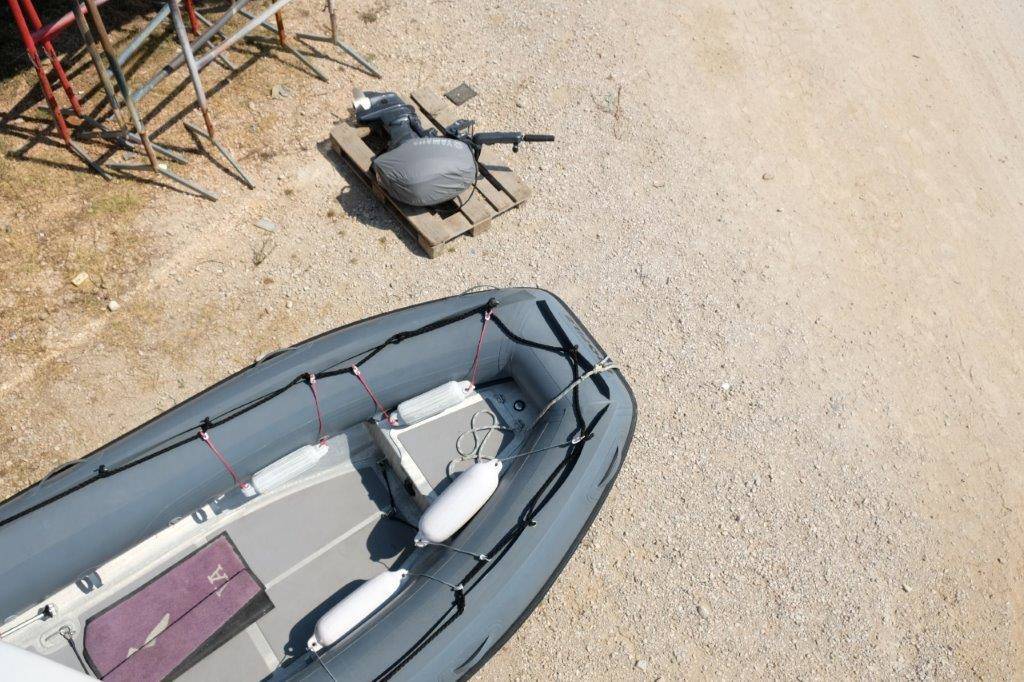 Dinghy motor removed. Dinghy cleaned. Yard will service and store motor over layup and dinghy will be shrinkwrapped
All chain lowered to stop sweating in chain locker over layup
---