Photos August 5

Westralia
Steve Coughlan
Wed 5 Aug 2015 18:42
August 2
0945hrs Depart Portus Karalis. Helen, Pon, Tony and Joe left this morning. Jude and I set off for a 2 day sail from Cagliari to Olbia.
1600hrs Motor sail making good progress in close reach conditions. Currently averaging 7.5 sog. After leaving Cagliari we were facing 20kn winds from the north northeast so hard going. Finally got around on a bearing just off north and managed to get some benefit from the wind.
2130hrs Berthed at Saint Maria Naverrese marina a few nautical miles north of Arbatax after a 12 hour, 75 nautical mile leg. Jude and I managed a stern to berth with assistance from the Ormeggiatori. We had a quick dinner and drink at the nearby marina restaurant then hit the sack after a long day.
August 3
0700hrs Jude and I departed Saint Maria Naverrese early for the 70 nautical mile run north to Olbia.
1507hrs Great sail under close reaching conditions over the last hour or so in winds up to 20kts.
1615hrs Berthed stern to at Marina Di Olbia. So overall a good run today covering 70nm in a bit over 9 hours compared to nearly 12 hours the previous day. We set to preparing and cleaning the boat.
2100hrs We picked up Catherine and Jack form Olbia airport and went straight to Pizzeria Antica for dinner. They were pretty wacked after travelling from Melbourne to Olbia, via London
August 4
1430hrs In the morning we organised provisions at the Olbia Mare supermarket, met with Luca and Agata for a drink and then departed Marina Di Olbia for Cala Conticcio.
1900hrs Anchored at Cala Conticcio. Strong westerly winds for a couple of hours. Laid out 70m of anchor chain after some circling to find a reasonable location. Had dinner on the boat.
August 5
1030hrs Earlier on in the morning we all went for a swim around the Cala. Depart Cala Conticcio for Bonifacio. Engine water and oil check, all good.
Catherine and me ready for a swim at Cala Conticcio
Jack at the anchor position
Put the hat on Jack!
Westralia at anchor, Cala Conticcio, Maddalenas
Jack in control at the helm
1700hrs We did go to Bonifacio port however it was a madhouse with traffic and yachts queued up to berth. They could not allocate a berth for us so we made our way out of the port then east and through the Passage de la Piantarella, then north for a short way before motoring into the Golfe deSant'Amanza where we laid anchor at the head of the Golfe. We took the dinghy ashore to a delightful restaurant and bar, Maora Bay. Very good fish dinner with live music.
View of the walled town of Bonifiacio, Corsica
The long arm of a selfie
Jack at the helm?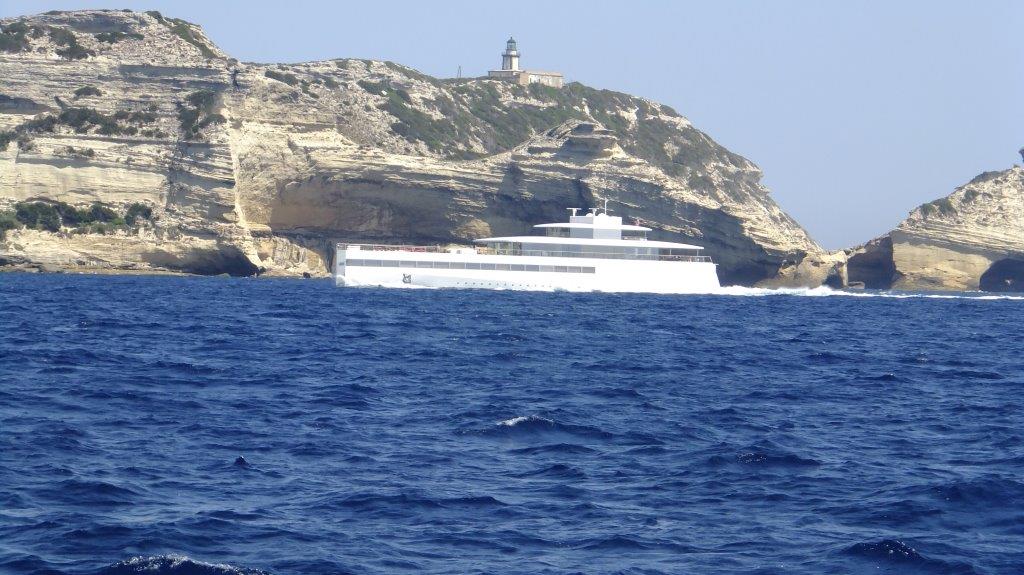 That is Steve Job's futuristic yacht heading towards Bonifacio. Unfortunately he died before it was launched.
---