Pix 24 July

Westralia
Steve Coughlan
Mon 25 Jul 2016 09:05
July 19 - After confirming with the Capitainere I organised and paid to stay at Pignataro marina until July 25. The rate increased from Euro 150 to Euro200 per night as of today however they agreed to to the Euro150 rate which saved me Euro300. Catherine, Jack and I headed out for a sail in good winds and anchored off Santa Maria Salina for lunch and a swim.
July 20 – Motored over to Vulcano with Catherine and Jack. We anchored and took the dinghy to shore where we organised to bathe in the mud pool. An experience with hot pungent gases seeping through the pumice stone. You smear the fine pumice mud over your body, rinse it off in the muddy water and then enter the sea nearby where the gases and warm springs provide a hot spa. I managed to get some of the acidic mud in my eyes and that was a very unpleasant experience. We then set off and anchored off a very pleasant beach on the south east corner of Isola Lipari for a swim before returning to Pignataro marina.
July 21 – We returned to Isola Salina and berthed side to in the small marina for a couple of hours. I was trying to get hold of a sail maker to undertake minor repairs to the main sail. Unfortunately Ariana was nowhere to be found so we moved out the marina and anchored for a swim, returning to Pignataro late afternoon.
July 22 – Spent the day cleaning the boat, catching up with washing etc. Catherine and Jack hired a scooter and drove around the island, Jack managing to have a spill and incurring another minor injury! Fi and Murray arrived by hydrofoil from Palermo at 1830 hours. Catherine and Jack prepared at excellent pasta meal which we enjoyed on the boat.
July 23 – We hired a car and drove around Isola Lipari. We stopped at a very small winery (500 bottles per year) where the owner showed us around the very small processing plant, accompanied by his two small grandsons, watching intently and effectively learning the trade. After a wine sampling we had lunch nearby then returned to the marina where Jack and Catherine packed up and departed for the ferry terminal at 430pm. Great to have them on board, both enthusiastic hands and Catherine providing very good translation services.
July 24 – Motored over to Vulcano with Fi and Murray. We hired a car and drove around the Island. I skipped the mud pool and let Fi and Murray enjoy the experience however did enter the sea to enjoy the natural spa from volcanic gas and hot springs percolating from the seabed. We returned to Pignataro in the evening and had dinner on the boat.
Panoramic view of Aeoli Islands from Capo Grillo, Isola Vulcano
Black beach restaurant, Isola Vulcano
At anchor off Isola Vulcano.
Volcanic mud spring, Isola Vulcano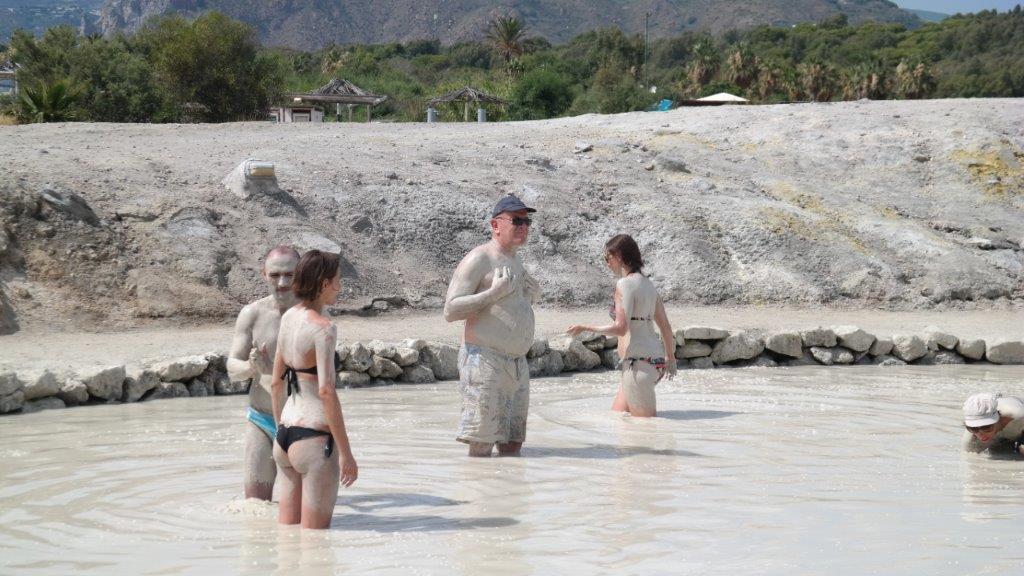 The creature from the lagoon!!?
Thermal springs in sea, Isola Vulcano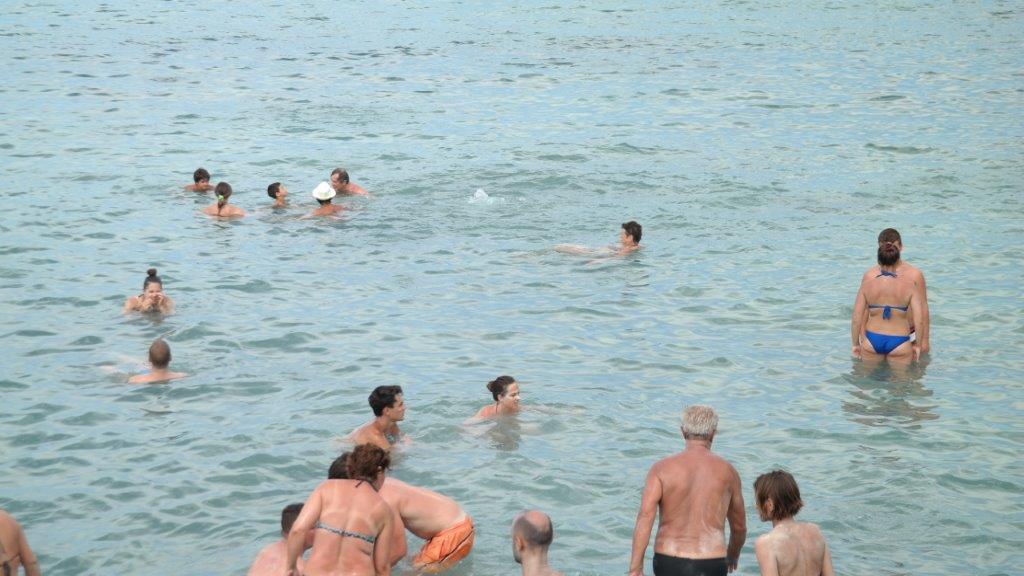 ---