Photos 38:53.197N 8:43.023E

Westralia
Steve Coughlan
Fri 19 Jun 2015 09:30
Since the last blog at 1400hrs June 13 when we berthed at Portus Karalis at Calgliari after a good run back from Bizerte in Tunisia we have been busy as follows:
Sat June 13. Spent remainder of day R&R after sailing for overnight. Cagliari port is in the front to the city and the old town has many good restaurants.
Sun June 14. We could not get our passports stamped as the port police office was shut on Sunday but did manage to get the ship's entry papers signed off. Mark and I went to the shopping centre to get gas fittings to suit Italian bottles, which and different from Spanish, which are different from English – opportunity there for the EU I would think! John spent the time attending to minor maintenance issues and upgrades on Westralia.
Mon June 15. Mark and I spent an inordinate amount of time chasing down the authorities to have our passports stamped for re-entry into the EU. Once done we headed out for a sail to Porto Giunco where we spent the night at anchor. Mark and John headed into the beach in the dinghy on a reconnaissance mission whilst I prepared spag for dinner. On leaving the beach they managed to get swamped by a shore break, returning like drowned rats with John's Iphone requiring an engine room dry out.
Tues June 16. In the morning we applied teak oil to cockpit table to better protect it from staining. Late morning we motored around to Villasimius where we had lunch before heading back to Portus Karalis marina. Mark's wife, Marlene, arrived late in the afternoon and spent the evening in the café restaurant strip in old Cagliari.
Wed June 17. We spent the morning organising various supplies and cleaning and in the afternoon took Marlene out for a sail off Cagliari. The winds generally appear stronger at this time of the year in the Sardinian Channel and on the west compared to the east and northeast of Sardinia.
Wed June 18 Completed supplies and laundering. John left for the airport early afternoon – as always he was a great help in shaking down the yacht after wintering in Olbia. Marlene, Mark and I departed Cagliari for Marina Teulada, taking advantage of NW winds of up to 30kns to get a great sail in for one leg before having to turn into the wind and motor, arriving at Teulada at 8:30pm. Very picturesque small marina where we organised a taxi to take us into the town for dinner at a quaint restaurant.
Thur June 19. Departed Teulada marina at 1pm and currently enroute for Carloforte on Isola Di. S. Pietro, heading west.
Photos of Teulada Marina and Marlene sailing on Wed.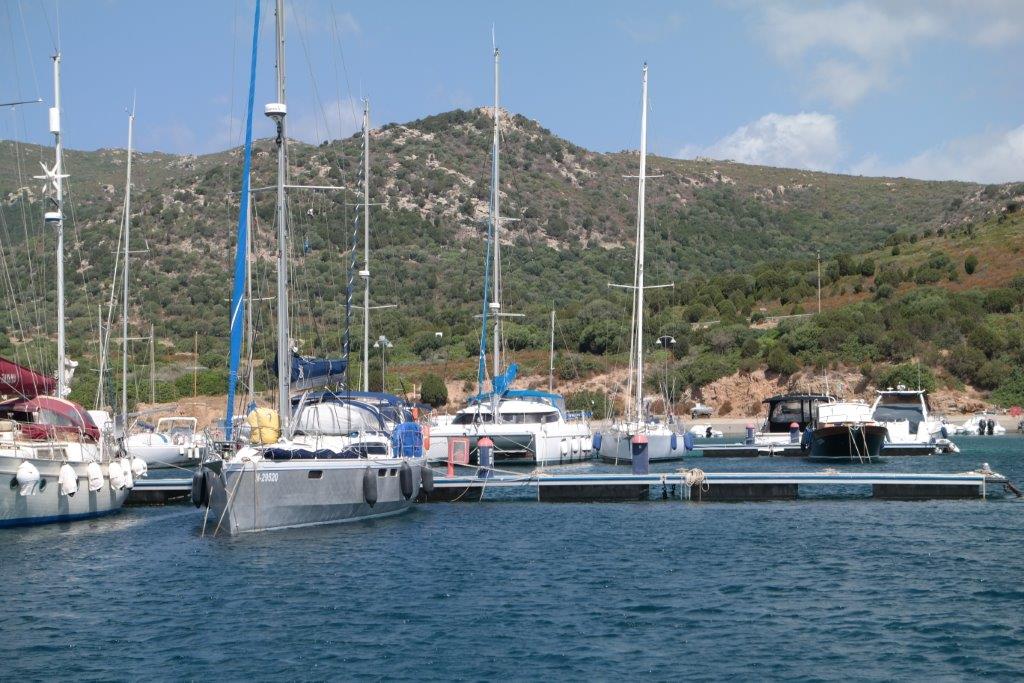 ---