Ormos Ammou, Nisis Othoni 26-Jun-19 1500hrs 39:50.534N 19:24.224E

Westralia
Steve Coughlan
Wed 26 Jun 2019 15:00
26-Jun-19 1130hrs
Depart Palaiokastrita
26-Jun-19 1500hrs
Anchored at Ormos Ammou, Nisis Othoni, a small island north of Corfu, after motoring all the way into very light NW winds. Vacuumed out bilge and gave it a dose of bilge cleaner underway. Tightened shackles on jib clew, one of which was quite loose. When next in Gouvia will get some tie wire to lock off the shackles, including the main sail top swivel shackle.
As the day progressed to evening, the small harbour and outer area filled up with charter yachts. Fortunately we had made a decision to anchor well clear of the entrance to the harbour, given the number of yachts anchored in a confined space. A 47ft Nordhaven boat anchored nearby with an NZ flag. I went over in the dinghy and they invited me aboard for a beer. Older dudes, Lawrence his wife Di and friend Chris. Nice people who had owned the boat, Envoy, for 12 years and recently sold it to an Aussie couple who were due to come on board in the next month or so.
Dinner ashore. Met with German group who were on yacht anchored just forward of Westralia. Bunch of formal older dudes. When they arrived in the yacht they all had their harnesses attached after motoring to the anchorage in 3 to 4kn winds!
Charter yachts anchoring and tying off stern too at Ormos Ammou. By early evening 12 had rafted up.
View into inner bay at Ormos Ammou. We decided to anchor well out give shallow areas and likelyhood of many other yachts coming in later in the day.
German crew of old dudes, all of who came in wearing harnesses when they arrived. Very light conditions all day.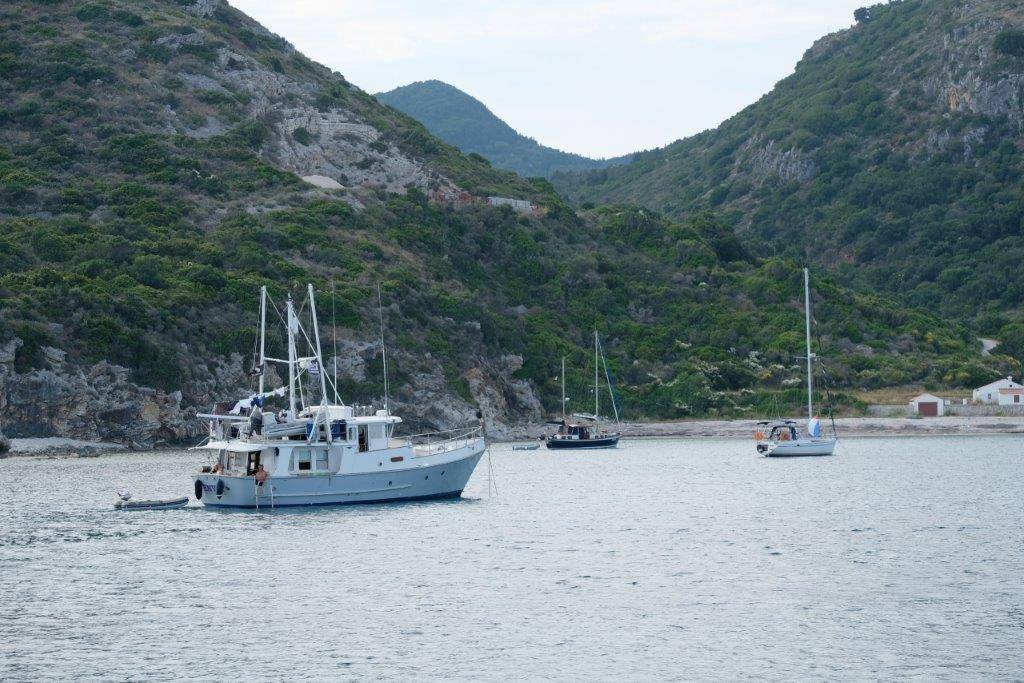 NZ Nordhaven MY, Envoy. Took they dinghy over band had a chat. Older couple Lawrence, Di and friend, Chris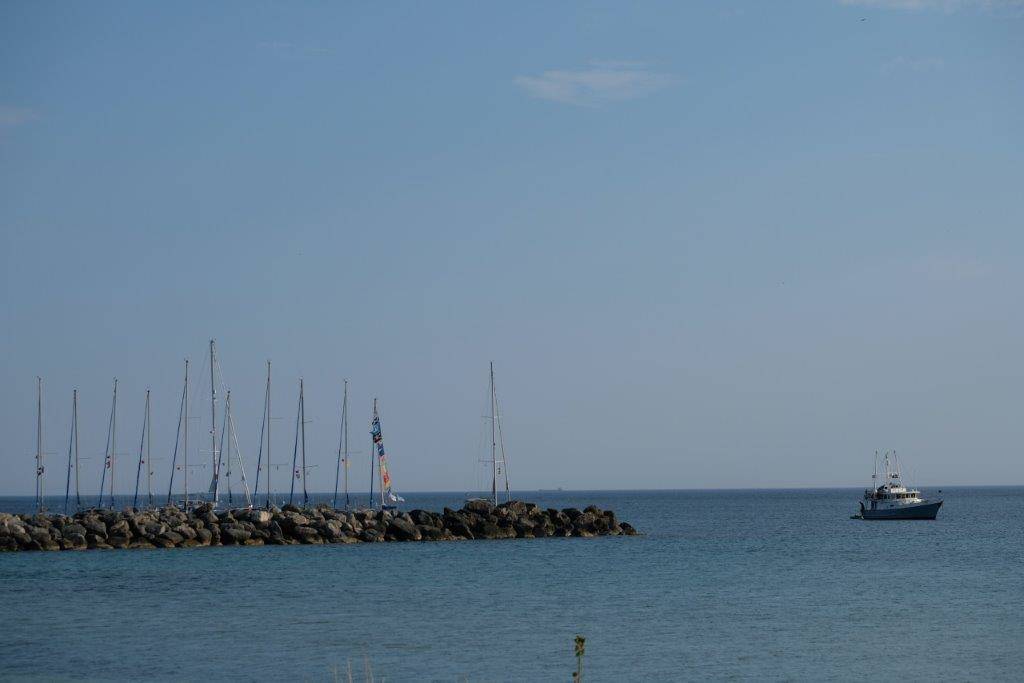 12 charter yachts rafted up
Dinner ashore at local Taverna
Mex feeding the fish old bread
---