PIX 25 Sep

Westralia
Steve Coughlan
Wed 25 Sep 2013 13:26
23rd Sep
Commenced clean up and prep on Westralia, emptied fridge and freezer, met with Tiziana Aquilani at boat yard, met with Stefano Leonardi from North Sails.
Boat yard will lift Westralia, clean and inspect hull, prop, rudder; store on hardstand, clean and polish topsides and stainless, service engine, genset, outboard, prep water maker for winter.
North sails removed jib and genoa for clean, inspection and repairs as required. Also recommended some mods to tack attachment. Tuesday they will remove main.
John Eustace arrived from Discovery Monday evening. Did a quick run through Westralia.
24th Sep
John and I conducted walkthrough and prepared punch list. Among other things - timberwork repairs to damage incurred in severe passage up Gibraltar Strait, replace all plastic mirrors (due to distortion) with glass mirrors, engineer and install swim ladder (existing one rotates out of locating holes in transom whilst mounting, modify access to aft side of Onan generator from master cabin to make servicing easier, series of minor issues.
Noted failed rubber coupling between engine and gearbox - Riva Di Traiano boat yard will organise warranty repair through Volvo.
North Sails came and removed main sail. We inspected their loft and discussed work to be done, including changing ss ring from Genoa tack and replacing with webbing, covering all battens in special tape so in the event of breakage they will not foul sail and can be easily removed, and other options for consideration. North sails will return to mouse all running rigging, clean and store along with sails.
Continued clean up and prep on boat. Removed all Bimini covers, cleaned and stored.
Very impressed with the service capability at the marina and the positive attitude.
Dinner with Andrea Simmonetti, Craig and Bernadine in Rome. Andrea's selection of Riva di Traiano for winter layup was a great choice and his assistance very much appreciated.
25th Sep
Completed prep and interior clean, rough clean of deck and topsides. Many thanks to John for again putting in well and beyond the call of duty. The support of Discovery has been first class throughout.
Now at Fiumicino airport awaiting flight back home.
The journey on Westralia has been beyond my expectations, she has been my home for nearly four months and getting to know her intimately has been a great experience. I could easily continue on but duty calls and winter will close in, even in the Med. There has not been one day or instance that I have regretted and I thank my family for allowing me this indulgence and all our friends who shared the journey. Your companionship and assistance was much valued. I look for to re-igniting my affair with Westralia and the Med in 2014.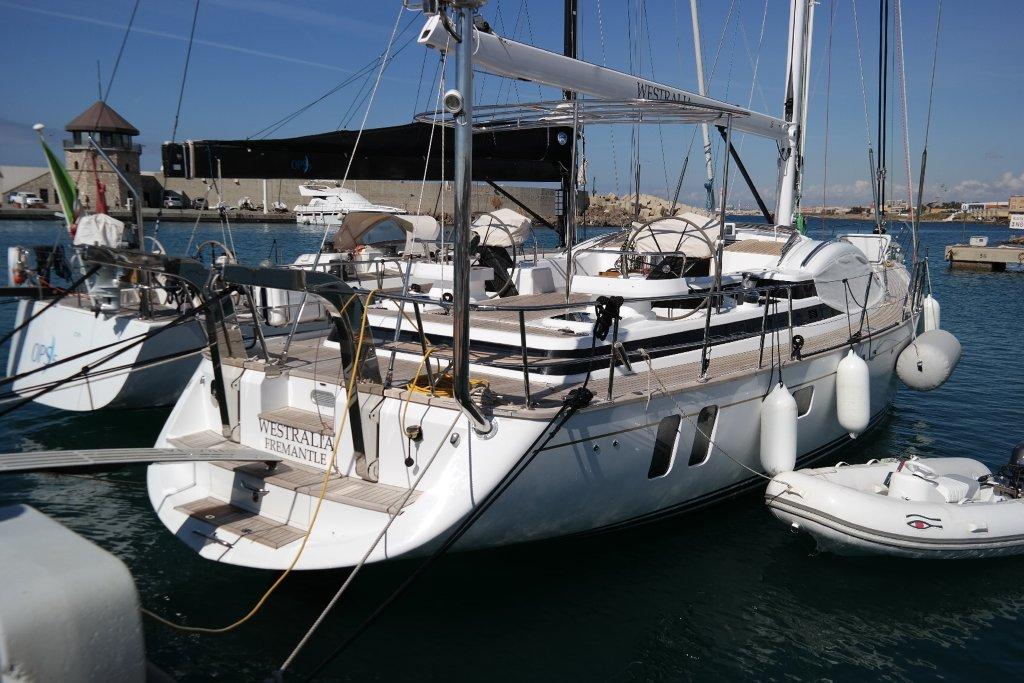 ---