The Jazz Phenomenon Cabaré

Take Off
Jörgen Wennberg
Mon 7 Nov 2022 11:36
Walk & Lunch around Cabedelo XXXX
A walk with unfortunately picking up stuff after people, which we do gladly and throw where the rubbish belongs.
The locals week-end activity : BBQ at the beach.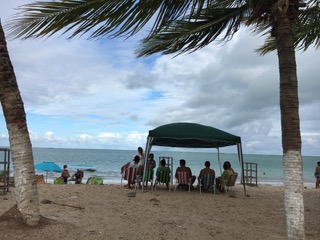 Walking from Cabedelo to Cabaré
By sunset we visited the Jazz Phenomenon in Cabaré. XXXX
Guiness Book of Records of playing Jazz at sunset e v e r y d a y n o n - s t o p since 1984! All dressed in white, standing
in a simple boat playing "Bolero" on his saxophone.
Cabaré & Crocodile. XXXX
The Sunset Market at Cabaré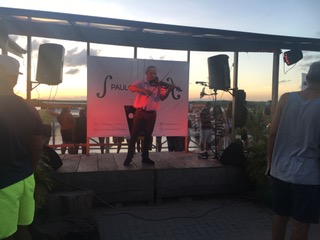 We bought this one!
A present from the restaurant! Crocodile heads.
Something Mum needs?
---