Louise's Birthday in Denarau

Take Off
Jörgen Wennberg
Fri 1 Jul 2016 22:26
Birthdays are always special days! However this one became a bit more unusual we guess. After having sunk a fishing boat the day before, we had to anchor nearby Denarau Marina in order to sort all the insurance papers out. Although it was not the nicest water to take morning dip swim, the family gave Mummy the best of birthdays with birthday cake (ok I had done it myself haha…), songs and presents in bed.
Breakfast
Quite quickly Jörgen had to take off in to Denarau Marina in order to meet with the owners, Dave from Yacht help and deal with the insurance issue. We also still had a few stuff we had recovered from the sea that belonged to the towed boat.
So now for the end of the "sinking-a-boat-story". Jörgen called Pantenius who said that the person who evaluates the damages lives in New Zealand but is in Europe for the moment being, so you will have to do the evaluation Jörgen…. Well feels a bit awkward as we were the bad guys in this story. So we let Dave on Yacht help evaluate the value of the boat. Within 23 hours from the accident everything was settled. We also wanted to make sure that the fishermen also got their part of the deal as they were now out of work and off course out of salary, which we managed to settle.
In the end we think that the biggest catch these fishermen could get was … us.
A special thank you to Pantenius for such a great service!
So now for the birthday celebration. We went into Denarau Marina and had lunch at Rhum-Bar, which soon became the place we had the most of our meals in Fiji… you will understand later on! The food was excellent and their desserts …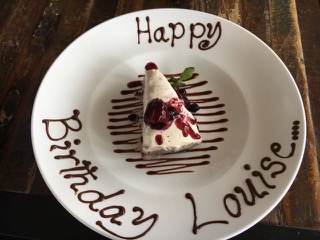 … to die for!!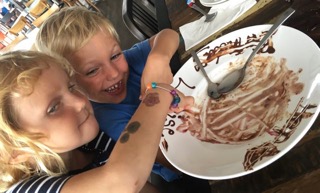 Coming out of lunch we heard on the radio that the Marina was calling for Take Off? So we went to the Marina Office who told us that a Norwegian boat anchored outside was driving away… We called our friends on Wishanger which we knew were anchored beside us to have a look if they could see a Norwegian boat driving away. They said no Norwegian, but yes a Swedish boat and it's yours…. So we jumped into the dinghy, saw Take Off at least half a mile away from where we had anchored her. We guess we had misjudged the depth, so we did not have enough anchor chain out, the wind shifted and the tide rose at the same time…. so off she went with the anchor chain loose. Luckily we managed to get on board before she was on her way to hit a reef with the rudder !
For the evening we invited over our World ARC friends: Wishanger, Paradise Found and Blue Summit.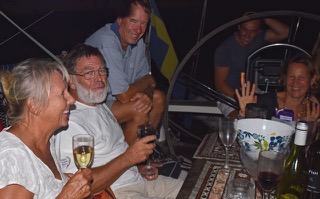 ---