Prize of the Spirit of the ARC: Hotel Landings

Take Off
Jörgen Wennberg
Mon 26 Jan 2015 21:50
This part of the blog will be a bit exceptional: 2 days on land sleeping in a still bed, showering as much as we like, no cooking for several meals, the plates are still such as the glasses. We can flush the toilet!! And the SPACE! We have finally taken our Prize we won as being the boat with the Spirit of the ARC: Hotel Landings. We got a hotel suite of 180 m2. That and all the things mentioned above are luxury!
It started with champagne in the reception and warm towels. Some understood how to really use them.
Jacuzzi on our terrace and view from the hotel.
Some found very quickly what luxury is: "Mummy there are 3 TVs in the whole suite!!". For us space is luxury.
Sundowner by the Beach Bar.
Coming back to the room we all took a bath in the jacuzzi, however not in use and a cold jacuzzi is really not luxury.
Luckily we could take a warm bath = luxury too.
However the best luxury was room service to the terrace enjoying a "night gown dinner".
Morgondopp 1 and morgondopp 2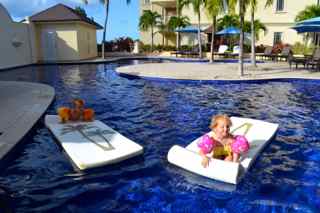 Another luxury for Mummy.
A whole day at the beach Alex quickly saw the Hobie Cats and asked Daddy if he could go out sailing with them. The kids loved it however a bit anxious of the speed. They had a very good grip of the boat!
Happy and proud kids!
Next activity: swimming lessons with Daddy.
Feeling quite at home in the bar.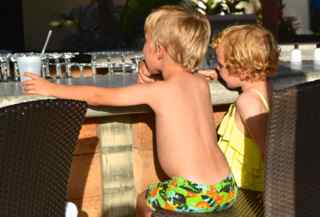 After 2 days in luxury it was quite nice to be back "home". Mummy reading good night stories for the kids.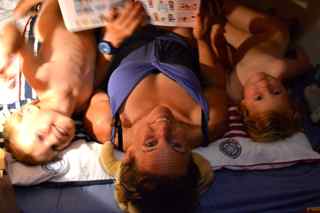 ---