Linton Island

Take Off
Jörgen Wennberg
Thu 28 Jan 2016 03:15
9.36 N
79.35 W
Early morning on the 28th of January we left the Archipelago of San Blas to start heading over to the Panama Canal. Unfortunately the wind was too poor so we jib-motored Take Off all the day over to Linton Island where we stayed over the night. The Linton Island is known to be inhabited onlya by monkeys. We anchored in the bay among several pelicans.
Before dawn we took the dinghy and motored along Linton Island. We were told that the monkeys can get aggressive with humans and especially with the ones as big as them…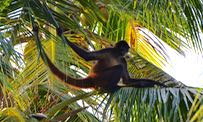 …so we took a look at them from the sea together with the family from Do Over. However you wonder who is looking at who?
A nice late afternoon all together.
The Pelicans being the birds' kings of the sea: majestic!
Alex asking "May I?" … Yes!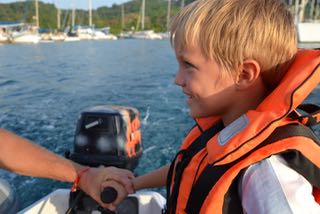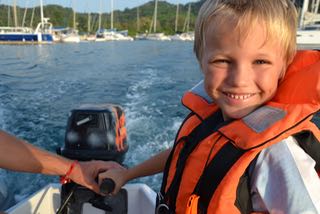 No big deal…
Me too…. but it is more fun to be right at the front.
The next morning we lifted anchor at 7am to be able to come into Shelter Bay Marina by noon. You cannot miss approaching the Canal of Panama sick-sacking among the ships of all sizes. An amazing sight!

---