All challenges in one day: broken bom and engine down.

Take Off
Jörgen Wennberg
Mon 11 Jan 2016 12:09
13.02 N

65.32 W




During the night from Sunday to Monday we had a hard time to tangle out a bad twist in the spinnaker. We should have listened to Chris Tibbs (expert on everything within the ARC cruising) not to put the preventer in the middle of the bom. We had made a few gybes, but this one was fatal and snatch!... the bom broke in two! Off course these things always happens only during the night… We managed to tangle out the twist in the spinnaker and take it down, as well as taking down the main sail with a broken bom. We secured the broken bom on deck and continued to sail only by the jib (genua).




Before going off her shift (00.30) Pernilla called her husband Tomas in Sweden who was about to wake up going to work Monday morning not knowing what was expected from him... He kindly followed our instructions to drive to our summer house on Märsön to fetch our spare bom. Pernilla working for Carlson Wagonlit engaged also her colleagues to find flights to Panama that can take a bom. When we woke up in the morning we got a message on the sat phone by Tomas who had engaged Håkan Belvén and Mats Runström as an onshore team in Sweden followed by Amsterdam with Louise

's brother Freddy forwarding the messages.

Håkan had taken contact with the CEO of UPS who he knows personally and shows to also be a sailor. Håkan and Tomas has packed the bom safely and

property

and drove it to Arlanda where UPS took over a 595 cm bom. It is now sent on the 13th of January with an ETA 19th of January in Panama City and then off to Colón. The rest will be for us to sort out: the customs.



The sight in day light.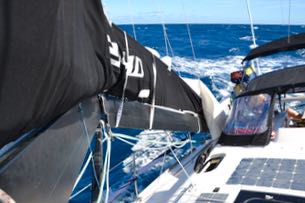 During the day we got the spinnaker up but the spinnaker bom showed to be quite unreliable so we chose to take it down. By that time we said "Well let's do like all the rest, why wait for better winds, we turn the engine on"… after 10 min of running the engine, it sounded very heavy and we turned it off. The cooling system was not working anymore. So on to our next sat phone call to our onshore team Tomas Stridsberg. We tested to change the impeller, and tried to find other solutions without finding it… So now our engine is down which means we will not be able to charge the boat's batteries more efficiently. This means too to turn on and off the fridge, the freezer and the GPS. No light at all except for navigation lights. And off course no chance to use the water maker either. So keeping short in water for cooking, drinking and brushing teeth. We still have the salt water to shower with ;-).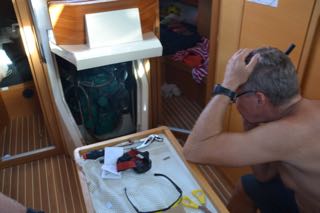 During all this day these two, Alex and Inez, always manages to find their games whatever is happening on board. So relieving… and imagine so free not to have to bother...
However we are still a very happy crew and do the best out of it! The sun is shining, the winds are pretty good and the swells fare enough.
---