Diving with more Lemon Sharks on Bora Bora finishing the day off with dinner at the famous Bloody Mary's

Take Off
Jörgen Wennberg
Tue 10 May 2016 05:15
In Rangiroa we hade bought a pass of 10 dives (5 dives each) with Top Dive to able to dive with any Top Dive place in any of Tahiti's islands. By this time we had now only 4 dives left (2 each), however our continuous issue was "who will take the kids?". Our second day on Bora Bora we turned up at the Top Dive office to book 2x2 dives for the day after. Once again we mentionned that we have a slight challenge and that is if they know someone that can babysit our children. This guy, Anthony, working at the shop said "no worries, I'll call my wife and see if she can take them. We have 4 kids so 2 more will not make that big difference….!". Imagine our surprise once again when he called her and she "yeah why not, that would be nice". So once again we managed to book our dives and give a nice time to the kids!
Our first dive we went outside the lagoon to Tapu where we lucky to once again see Lemon Sharks! This was fabulous!
Motoring our way to the next dive our driver said that we will pass an area that might have manta rays. So one of the guys sat on top of the roof spying for mantas. And he saw one! The stopped immediately and we got the chance to swim and snorkel above the manta ray. Wow what a sight! Our first manta ray!
Our next dive we dived in Toopua, nearby the Coral Garden where the corals were like a labyrinth in the water. Amazing sight and so much fun!
One of the most spectacular animals to see in the Coral Garden are the leopard eagles rays. They are very shy so you can only observe them from behind a cliff. When we saw them we hid behind a cliff and observed them for a long time. They stay still towards the current take turns in being in the first row (just like cykling). Majestic!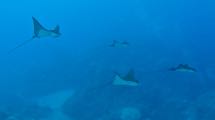 Finally we stopped to feed the fishes. We had brought bananas with us which was very popular and all the fish came up straight to Jörgen feeding them!
For the evening we move down to the Southern part of the island mooring in front of the very famous restaurant "Bloody Mary's". Coming into the restaurant, Alex and Inez had to run their legs off!
On this board we saw all the famous people that had paid the restaurant a visit.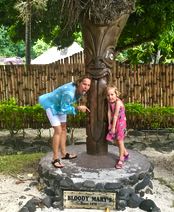 The floor of the restaurant is only sand so it is advisable to take of your shoes.
We were here with quite many yachts from the WARC: Wishanger II, Carango, Blue Summit and Paradise Found. Alex and Inez playing "plus plus" with the other a bit older kids (21 to 28 years!)
Claudine and Bryan from Wishanger II with Jörgen. All the youngsters from all the boats: Matthew, Laura, Josh, Catherine, Ben and Georges.
The ladies: Vicky, Claudine, Gina and Louise. After the drink we had dinner with Carango. As usual Inez always manages to find a space where to sleep, even on a sandy restaurant floor!
Last (good!) wifi before heading off to Tahaa and Raiatea.
---