Finishing off with the Wildlife Territory Park

Take Off
Jörgen Wennberg
Sat 2 Sep 2017 16:58
Our neighbour at the Cullen Bay Marina in Darwin recommended us to see this park, especially with Alex and Inez. We are happy we did it! It was excellent for the kids as well as for us. We got really close to the animals, as if they were in their natural environment.
The hsuband-bird we saw in Yellow River.
A beautiful parrot.
We entered this bird palace where we could be close and see the bird in their natural envinonment.
In front of the aquarium was a "churchyard" for these giant clams who had been illegally hunted nearly to extinction. This is to remind us of respecting the animals in their natural habitat.
More Aboriginal paintings
The Australian dingo. We got just in time for their feeding.
This was the main attraction of the park! Very friendly sting rays and a fish spitting its prey.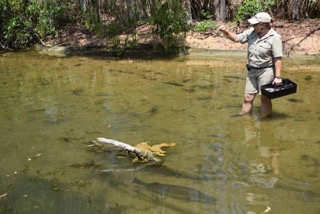 On the second picture above to the right is the fish "Combi Archerfish" spitting its prey. I tried to catch it on photo, however it was far too quick!
This is a fresh water whipray. A very friendly and cuddly animal loving coming aside people's legs.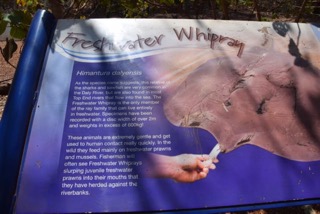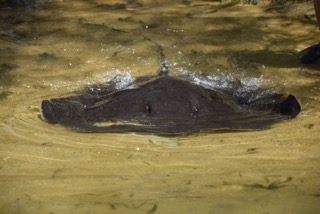 Yet another crocodile, however this is a baby croc.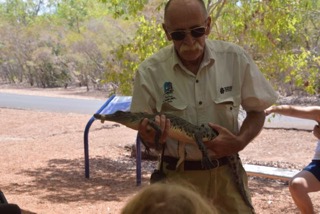 The baby croc's transportation.
We finished the tour at the Wildlife Territory Park by paying visit to this last newcomer in the park: an ow.
Coming back to Darwin we got in time to visit the open market where we could by local food and have a look at all the local arts & craft.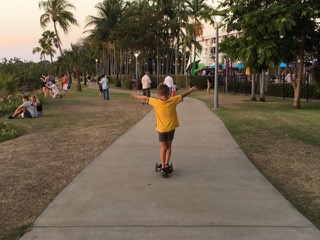 An Aboriginal painter painting Aboriginal art. It was fascinating to see how he proceeded with very simple tools and only a few colours.
---