Snorkelling through Los Tuneles : La Grande Finale of the Galapagos!

Take Off
Jörgen Wennberg
Sun 28 Feb 2016 21:09
Our last day on Isabela we went off snorkelling in Los Tuneles: an adventure above all others! We left early birdy in the morning at 7 am with our friends on Heidi, Edvard, David and Ellen. The boat ride to Los Tuneles was magnificent. The sea was totally flat and beautiful.




Los Tuneles or Cabo Rosa is an unbelievable lava landscape which is navigated by the boat driver through a series of narrow channels and arches with cactus growing on them. These tunnels are a network of lava tunnels that have been exposed to and subsequently flooded by ocean movements. A series of lava flows have created hundreds of arches and tunnels, both above and below the water. The striking geological formations are outdone only by the extraordinary collection of creatures you see from above.
The collapsed lava has created many tunnels and bridges that are magical to see and walk through. We were told was it was like but it is not until you see it by yourself that you understand how breathtakingly beautiful it is!
Family Wennberg and Ellen.
Jörgen talking to a sea lion and then standing by a 400 - 500 year old cactus! The cactus grows 1 cm per year. The cactus creates a self defending system from the root up to half a meter with sharp spikes to protect from the animals eating the flower on top of the cactus.
The water is so clear clear clear that you could see everything: here we have a sea turtle and a black tip shark.
The 4 walking over the bridge: the guide, Edvard, Jörgen and Ellen. The next picture Alex, Inez, Raphaël and Daniel going off a discovery of the lava tunnels.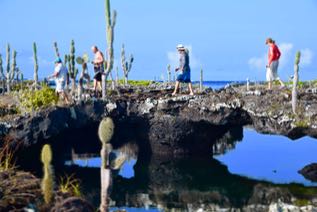 Our next stop was to snorkel in these tunnels. We first saw a penguin...
…then our guide showed us a sea horse!
Cécile and Raphaël with the sea horse.
Then we swam to the tunnels challenging ourselves to swim through the tunnels!
Our last spot at Los Tunneles we were more spoiled by the rich sea life: Jörgen, Louise and Daniela with sea turtles...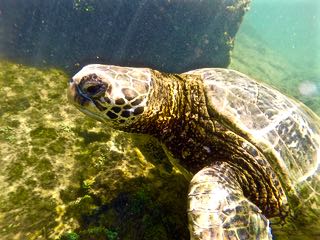 … eagle rays...
… and the crème de la crème: the guide putting our head down in a cave to sea sleeping sharks!!!!
On our way back on the boat through the calm sea we saw first this…
… and then this realising that we had a huge manta ray by the boat!
Funny Daddy protecting Inez from the sun while sleeping as well as playing around with Alex.
As we were on time back to Isabela our guide asked us if we were interested in visiting Tortuga to snorkel with hammer sharks. We bargained and said that we will pay him full price when we will see the hammer shark. Ok - deal! So off we went to Tortuga on our way back. Tortuga is an inhabited island as it is very difficult to approach the coast. The name Tortuga comes from the fact that the island looks like a sea turtle shell.
All along the coast we could see marine iguanas swimming in from the sea and sunbathing on the cliffs. There were hundreds of them!
Just before jumping into the sea to snorkel we saw this … and realised that once approaching it was a sea lion lying on its back sunbathing.
The visibilty was amazing! You could easily see 20 - 30 meters deep with plenty of fish.
And to the hammer shark? Well actually Jörgen and I managed to see one far away on the bottom as well as the guide. Being the only lucky ones we paid half of the agreed price.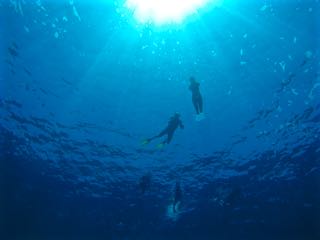 Once coming back to Isabela we saw a big ship coming in. This ship comes in every second week with all the provisioning. Yes everything is imported to Isabela as nothing is grown on the island.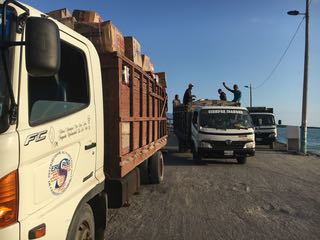 Happy visitors in the centre of town after all our snorkelling discoveries. Comparing to your diving we must admit that we were more lucky snorkelling seeing more sea life.
---