Our final stop: Grenada

Take Off
Jörgen Wennberg
Tue 14 Apr 2015 09:16
Leaving Sandy Island on Thursday morning 9th of april, we sailed our last trip for this time down to Grenada. What a quite strange feeling! However we know we will be back, so this is just a short farewell ;-)
We headed down to Grenada as this is where the insurance companies allows us to lift the boat up on land. Grenada being on the 13th latitude, the risk of hurricane is small. When we were in Grenada in January we booked a hurricane cradle in Spice Marina for april. A few months later, several islands visited as well as nautical miles sailed we are now back for our final tour of this sailing trip. Now we only have the clean the boat, tidy, empty, empty and empty… and prepare the boat for its land sleep until Christmas.
The last clearing in!
First a proper energy rest at the pool
Then the rest: cleaning the whole boat in white vinegar to prevent moisture…
… vacuum packing the clothes we are not bringing back home…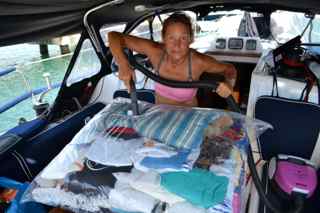 … the result…
The rest we did not want to have in the boat we stored in an attic at Port Louis.
Final fixing, checking the mast and haylward.
Last breakfast and pack the last stuff.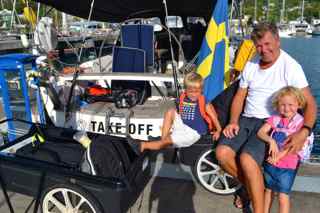 Before leaving Port Louis for Take Off's final destination.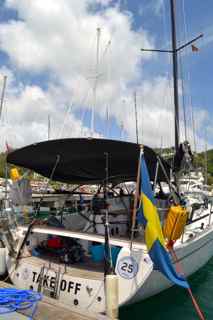 Coming into Spice Marina and lifting the boat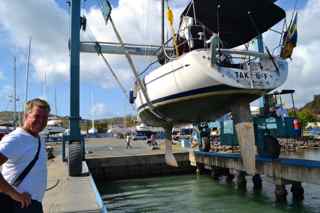 "Driving" Take Off to its parking lot
And now for the final work: taking down the bimi top and the spray hood and meeting with Mark who is going to look after Take Off until december 2015.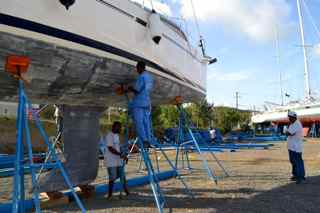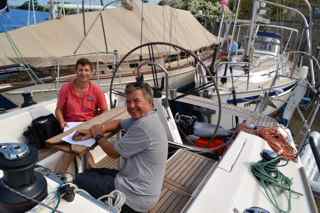 Emptying the anchor box from water and cleansing the anchor from all salt.
This is what Take Off looks like now. Emptied, all cushions up to prevent moisture and closing everything so no uninvited small intruders come in…
Meanwhile the kids have been really patient. Sometimes the iPad is the parent's best friend!
Good bye Take Off, see you in december!
The last day was a wonderful resting day by the sea at Grande Anse …
… and by the pool.
Our last lunch at Calabash in Prickly Bay
And our last diner at Aquarium with Janne and Kate from Solit who we met in Port Louis. A charming Swedish couple! This is their third season in the Caribbean and they have done this emptying and lifting up the boat 3 times, so they had so many tips to give us. Thankyou very much!!! We had a wonderful last evening together with them.
Our last lobster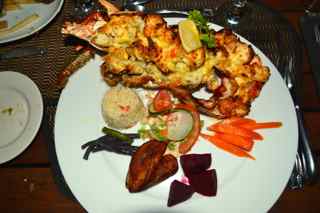 Our very last sundowner!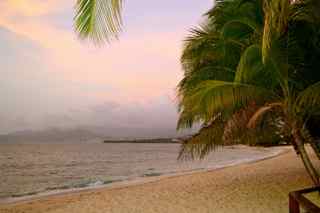 ---