Tour around Santa Cruz

Take Off
Jörgen Wennberg
Tue 23 Feb 2016 21:50
We continued our tradition and took a guide for a whole day trip to see Santa Cruz together with our crew Ellen, David and Edvard as well as our friends on Heidi. We first visited the "Twin Lakes" being rather "Twin Craters"? Guess we must have heard wrong.
Edvard known for his funny moustache made more fun of himself ;-)!
Raphaël "walking" into the picture..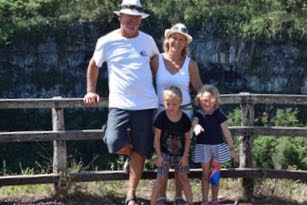 Our next stop is to see the Giant Tortoises again, however this time in their natural environment. And we caught one on the road!
This shell was empty and tempting! Alex being a proper tortoise eating gras.
Could you tell that the one to the right is 110 years older?
The giant tortoise find their cooling spot in the shadow or in the water or in the mud.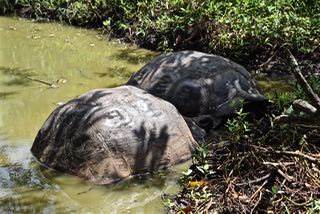 Tortoise posing!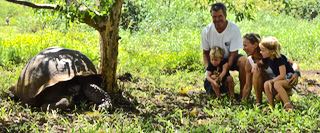 Restriction for how close we are allowed near the giant tortoises.
Can't tell what is the back and what is the front? Jargon holding an empty shell.
Rapahël trying to lift the quite heavy shell! Alex and Inez being a two-headed tortoise.
And off we went to our next stop, the Volcano Tunnel. Our guide let us at this entry and told us to just follow the tunnel until we sea the other end. We knew is was approx 2 km. This tunnel is a natural volcanic tunnel being shaped naturally.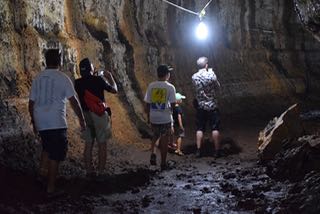 What we did not know was this very short passage. We were all amazed by Cécile who managed to crawl through this passage with her long dress!
Amazing how plants find their way as long as there is light, even with bulb light! And we found our way out.
Being quite yucky by the crawling.
Every country have their own road signs!
---